Robotic Process Automation (RPA) is affecting every industry in today's hyper digitized world. As the size and scope of data continue to grow at an exponential rate, healthcare organizations are struggling to handle the complex responsibilities associated with creating, managing and analysing data. One way to address this challenge is to implement RPA which can replace or augment human activities or transactions involved in administering healthcare.
RPA offers capabilities to improve nearly every aspect of a business. The technology is ideal for automating any repetitive process or task that can be mapped from beginning to end. With the pace and complexity of innovation, new RPA use cases are being found and developed every day, as more organizations look for ways to take advantage of RPA's efficiency and productivity benefits. Human mind and energy can be put to better use by deploying RPA systems for monotonous tasks. This would increase precision and accuracy and speed up processes. Specially in the healthcare industry where many aspects have to be administered every day, RPA will have many use cases. We have listed a few below
Health record management:
As the healthcare industry starts to wade deeper into RPA, it becomes more helpful to think of specific use cases that can be applied across a broad range of settings. Shared across all scenarios is the promise of faster results and improved quality while reducing costs. The first area where RPA can help healthcare organizations is in recording patient data and billing information. For example, if a physician dictates notes on a patient visit, those notes can be transferred to the appropriate category through some type of automation tool.
A second area where RPA can help is in storing records in the right places so that they're easily accessible by those who need them. This includes those who work within healthcare organizations, such as administrators or physicians, but also patients themselves. Whether it's something as simple as scanning in physical documents or searching for files by keyword, there are opportunities within these health information management tasks that could be made easier with robotic process automation tools.
Patient Insurance verification:
As people become more and more aware of the importance of health insurance and hospitals too, introducing economic and beneficiary packages in collaboration with various insurance companies and verification of patient records becomes tedious. RPA can be used to automate tasks such as verification of patient insurance coverage and enrolment in managed care plans, verification of eligibility for healthcare services, including ancillary services, such as physical therapy, typically conducted by patient access professionals. RPA can also be useful to verify insurance benefits including the amount of coverage and available lifetime benefits for specific procedures or services and if a particular provider is part of an insurance plan's network or not, which ensures patients will receive covered care.
Patient Billing:
Billing requires data of services used by patients, their insurance, treatment plan, consulted doctor, and many other such records. Collecting them all, tallying with their insurance plans and preparing invoice requires careful as well as fast work. Why not deploy RPA for the same?
RPA solutions can automate collecting patient demographic data during admission or registration, capture patient information to generate bills and prepare insurance claims by using AI tools. They can also extract data from medical records and compare it with insurance schemes to verify coverage details. Preparing patient bills based on their treatment history, services used, and room type and sending statements and invoices to patients becomes an easy process with automation.
Patient eligibility check:
Healthcare workers can use robotic process automation to check patient eligibility for numerous procedures and drugs. For example, a clinical worker may want to know if a patient is eligible for a certain procedure or prescription medication, so they use RPA which can refer to their health records and verify the same.
Similarly, insurance providers must regularly verify whether patients are eligible to receive benefits. Knowing ahead of time whether patients are covered by their respective insurance plans helps healthcare workers avoid incorrectly billing these individuals, which can cost your organization money and damage its reputation. The ability to identify and resolve issues with insurance coverage before patients arrive enables you to schedule appointments more efficiently, saving both time and money in the long run. In addition, robotic process automation systems may be able to flag patients who have reached the maximum amount of coverage allowed in a given period, enabling you to notify them ahead of time so they can make informed decisions regarding their healthcare needs.
Healthcare provider credentialing:
For a healthcare system, maintenance of doctors' records and its verification is crucial. One needs to manually complete hundreds of pages of paperwork and conduct multiple phone calls and emails to verify a physician's credentials. Automation can take this information from electronic sources such as state licensing boards, hospital databases, court systems, etc., and speed up the process by performing most of these activities automatically. Similarly, if institutions are looking to hire someone who has just been hired elsewhere, an RPA bot could look for that information in the public domain, free up the HR's time for other tasks and reduce healthcare provider turnover costs associated with hiring a candidate who doesn't work out.
Human Resource tasks:
For any industry, the HR professionals are definitely thankful for RPA. Automation tools and bots can help speed up and efficiently perform various human resource tasks such as: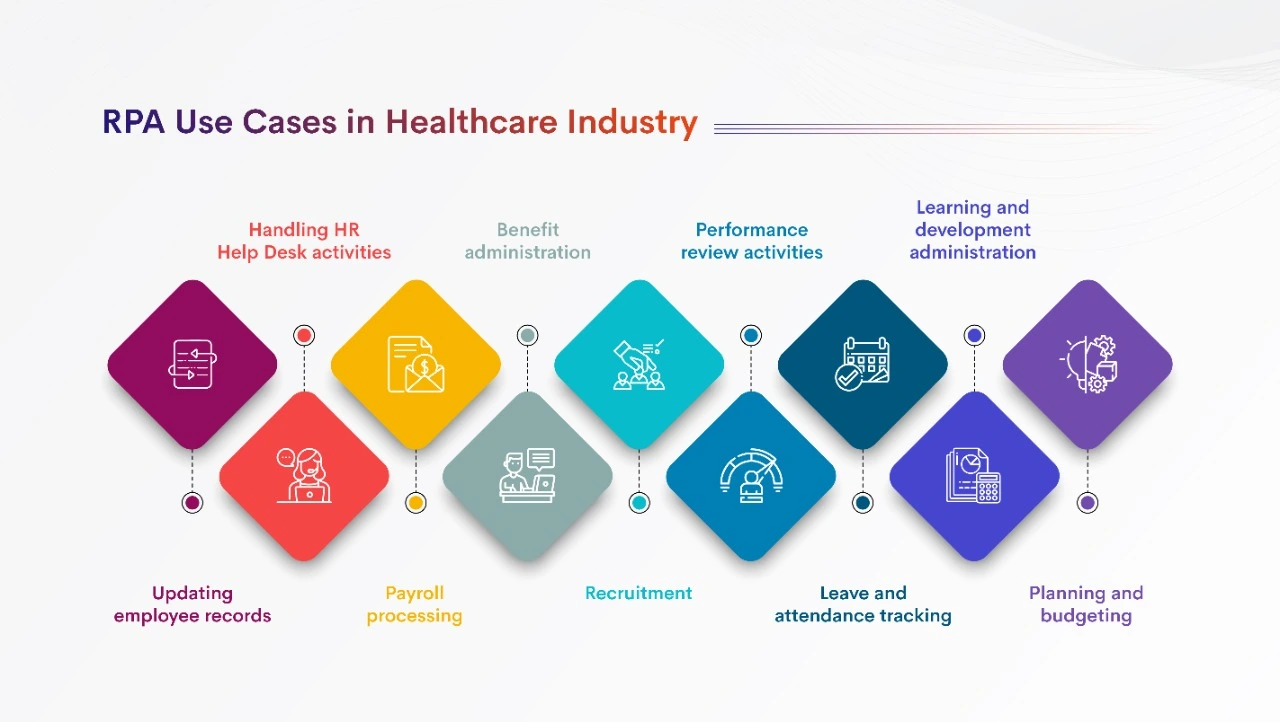 Updating employee records
Handling HR Help Desk activities
Payroll processing
Benefit administration
Recruitment
Performance review activities
Leave and attendance tracking
Learning and development administration
Planning and budgeting
Compliance and data reporting:
Compliance is a major driver for RPA in healthcare. The time it can take to complete compliance tasks, such as audits and data reporting, can be very high. RPA can streamline these tasks and save time and money that would otherwise be spent on these processes.
Many organizations have a large amount of manual and tedious data-related processes that involve collecting the right information, aggregating and categorizing that data correctly, and submitting reports. These processes are often prone to errors due to manual input or human mistakes when interpreting guidelines for different reports. With automation, you can reduce errors related to entering data incorrectly or inaccurately reporting numbers.
Accounts Receivable (AR) follow-up:
Account receivable (AR) follow-up is a process that has been automated in healthcare organizations in many countries across the Globe. If a claim is denied by a payer, there are several steps that may need to take place before it can be re-billed. These steps include checking for duplicate denials, adjusting the primary insurance amount billed, checking for new eligibility, resubmitting claims, etc.
There's so much room for error and repetition in this process! A single billing error can lead to financial losses for an organization. RPA can help with AR follow-up by automating repetitive, time-consuming tasks such as sorting through duplicate claims and generating denial reports. More time spent on AR follow-up leads to more claims processed and thus, more revenue opportunities created.
Wrapping-up
Robotic process automation (RPA) use cases in the healthcare industry are revolutionizing the way they operate in a digital world. By automating business processes, we can perform repetitive and structured tasks on digital systems far more efficiently than before. RPA can be used to automate time-consuming manual processes, improve accuracy, increase productivity, reduce costs, accelerate engagements with patients and insurers, manage regulatory compliance requirements more efficiently, reduce errors and risks associated with data entry tasks, all while improving organizational agility.