Digital revolution has remarkably transformed the healthcare industry. This digital world has merged several industries, including genetics, ingestible and implantable devices, wearable technology, sensors, merchants, social media, artificial intelligence, analytics, clinical data, and electronic health records. Emerging technology trends introduce new forms of group work and a new perspective on how innovation, cooperation, and automation can improve healthcare delivery for the whole world.
Technologies like robotics, 3D printing, big data and analytics, artificial and emotional intelligence, blockchain, IoMT, AR-VR, and Personalized healthcare play a key role in modernizing healthcare. These technologies have the potential to fundamentally alter on how healthcare is delivered and received. In this blog article, we will dwell into each of the top healthcare technology trend which is expected to be in demand in 2023 are as follows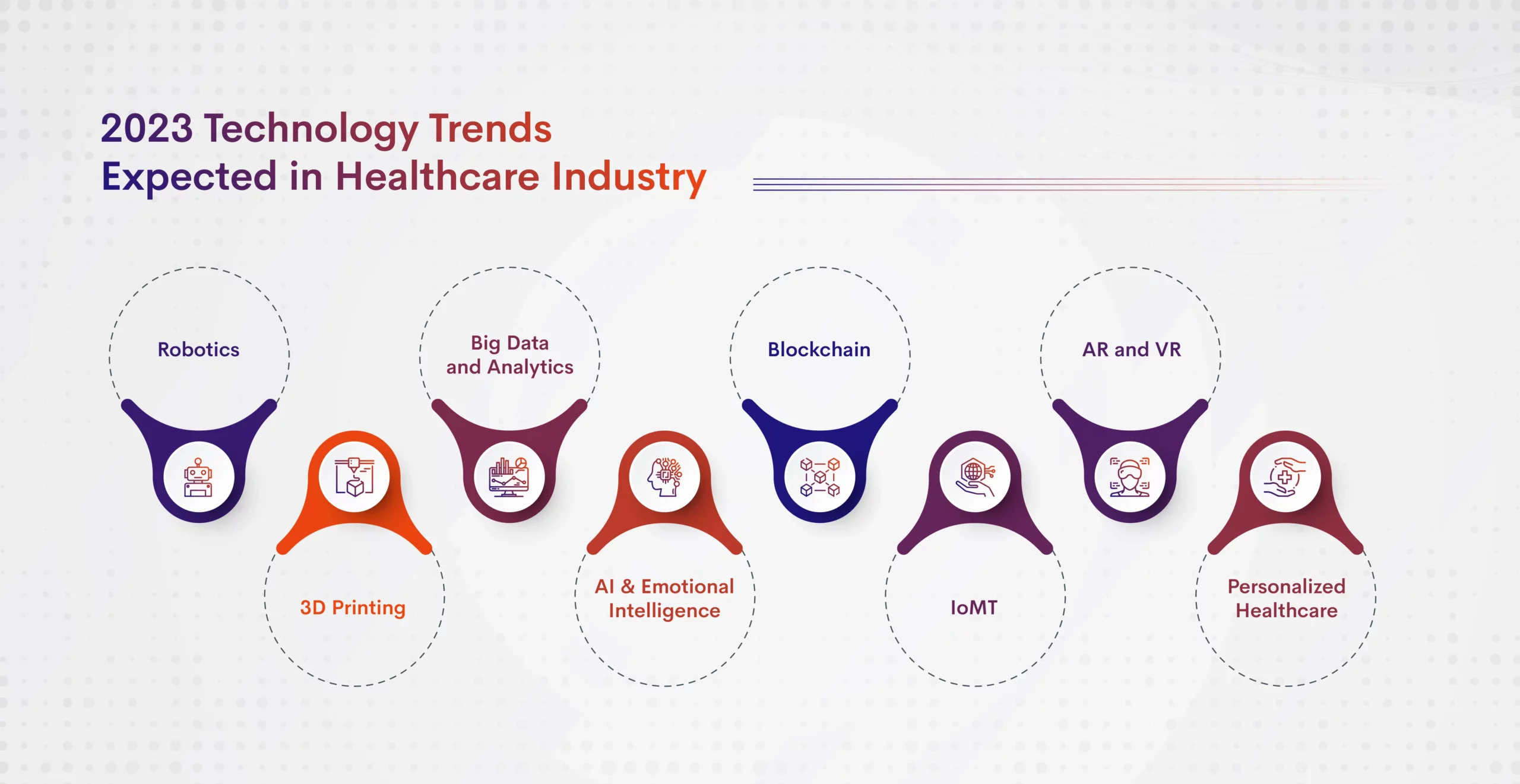 Robotics:

Robotics can be used in healthcare for many tasks, from straightforward lab work to intricate procedures. Surgical robots can work independently or collaborate with human surgeons. Robotics can also be employed in hospitals and labs for repetitive work, physical therapy, rehabilitation, and assisting patients with chronic illnesses. By 2023, it is anticipated that the market for medical robotics will be worth $20 billion.

3D Printing:

 Clinical studies have historically utilized testing on animals with intentionally generated diseased tissues. Now, with the advent of 3D bioprinting, it can test with human-like 3D-printed tissues allowing pharmaceutical companies to quickly discover the problems with human clinical trials of medicine and save the animal from this painful process.

Big data and analytics:

The big data market in healthcare will reach $70 billion by 2025. People are adopting smarter gadgets such as smartwatches and other wearables to monitor their heart rates, sleep patterns, etc. These devices produce complex and vast volumes of data, which are transformed into insights using data analytics. Analytics in healthcare can lower the cost of care. It can improve patient treatment as well as forecast disease outbreaks. It encourages individuals to reduce diseases that can be managed and improves their quality of life. Today's healthcare professionals gather vast amounts of data to enhance care and treatment strategies using information and insights for higher-quality results. In 2023, Big data and analytics will shine again as previous years.

AI and Emotional intelligence: 

In 2023, the market for healthcare-related Artificial Intelligence will reach US$20.65 billion. It can identify disease-related early warning signs in MRI or x-ray scans. AI and Emotional Intelligence working together could significantly improve healthcare. It helps to understand a patient's emotions and moods using speech cues, inflections, and gestures. Intelligence makes it easy to diagnose emotional stability and depression through vocal tone. AI is not only useful for front-line clinical tasks but also aids in processing insurance claims and preserving or analyzing medical records.

Blockchain:

 By 2025, the implementation of blockchain technology in healthcare could save the healthcare sector between $100 and $150 billion annually in expenditures associated with data breaches, IT, operations, support functions, and staff, as well as a decline in fraud and the sale of fake goods. Data forgery is virtually impossible because of blockchain technology. With a strong focus on streamlining the healthcare system by creating a safe and secure environment, the healthcare industry is transforming a patient-centric approach. Additionally, the use of blockchain in healthcare today not only addresses the rapidly growing demand for technology but also gives medical records immutability.

IoMT:

 IoMT makes a network of objects and devices to connect patients and medical professionals, automate crucial processes and offer real-time data on people. The IoMT's central machine-to-machine interface will be integrated with medical equipment over a cloud. This network serves a variety of purposes, such as tracking patient behavior, providing secure access to medical records, tying hospitals and doctors with patients on the go, delivering health information to medical specialists, and more. The market has been boosted by rising IoT spending in healthcare and technological advancements in healthcare information technology. Till 2028, the market for the Internet of Medical Things (IoMT) will be worth USD 187.60 billion.

AR and VR:

 Teleconsultation, telemedicine, and other online & internet-based services fueled the expansion of global AR-VR in the healthcare market. AR technologies instruct medical students who do not have field experience and help nervous patients understand surgery results. Meanwhile, VR has become a crucial component of physical rehabilitation, robotic surgery, and mental treatments. The healthcare sector has many areas of application for AR and VR in the future. These technologies will surely, enable us to recover more quickly from illnesses and overcome chronic diseases.

Personalized healthcare:

Patients will have greater possibilities in 2023 to receive healthcare tailoring them personally. Before creating treatment recommendations, personalized healthcare will consider each patient's genetic and biological profiles. Wearable technology and DNA sequencing are examples of personalized healthcare technology solutions that assist medical professionals in early disease detection, diagnosis, and its impact reduction. Technologies typically entail creating a personalized treatment plan for a patient, considering their unique circumstances, viewpoints, and beliefs when deciding how and where they should receive treatment. Every type of personalization will be a prominent trend throughout 2023.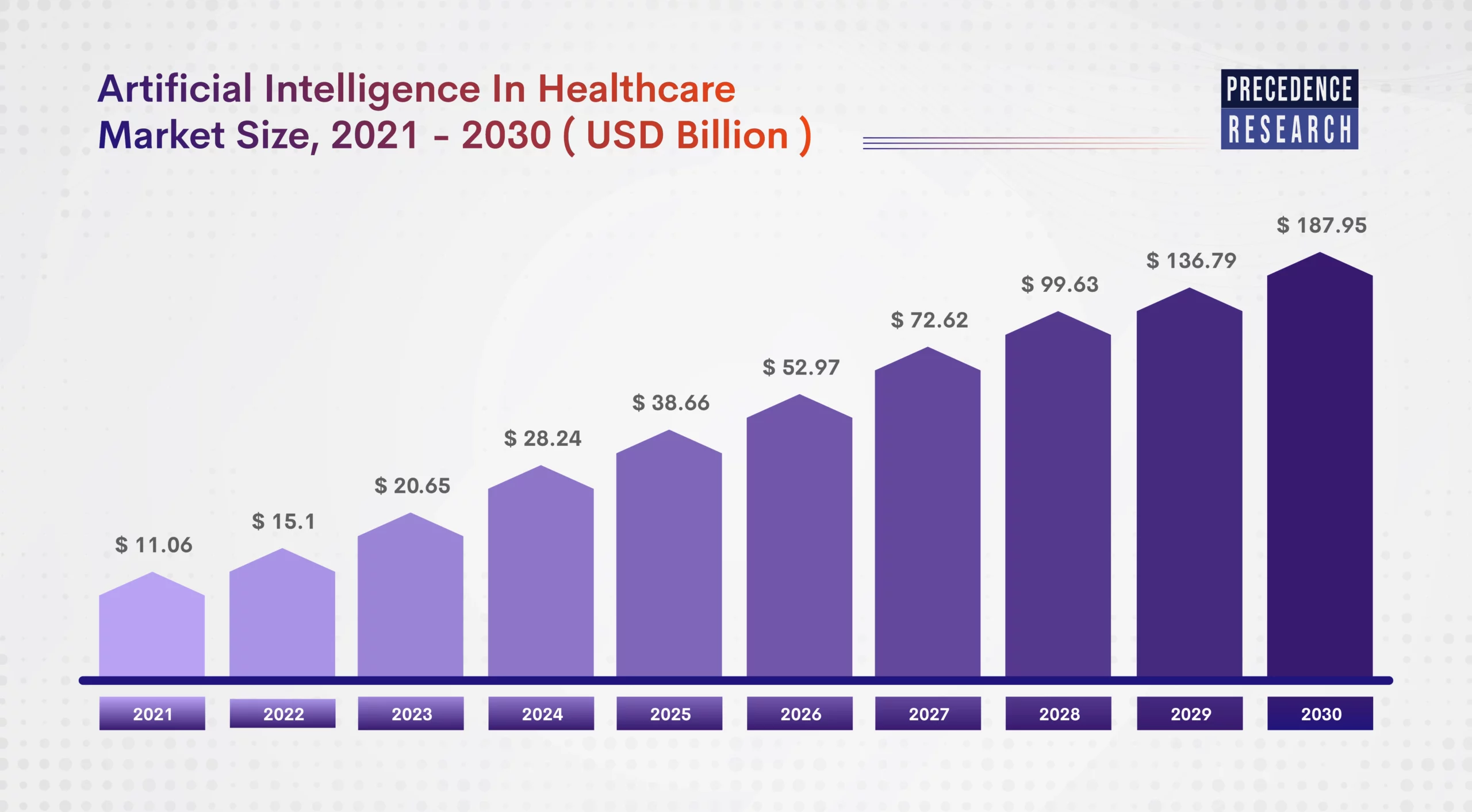 Final thought:
It is intrinsically difficult to pinpoint and gauge the potential breadth of the breakthroughs in healthcare that are now in development but technology become a game-changer. We believe that these technological advancements have significantly improved healthcare. Technology has become a godsend in healthcare. We are now beginning to use it routinely and making everything simpler in healthcare, from staff training to patient rehabilitation programs to assisting surgeons during procedures. People would be able to analyze their health in real-time and take preventative measures to keep themself in good condition. According to the consulting company McKinsey, new advanced  technologies could cut the overall burden of disease by 6 to 10% by 2040. These revolutionary technological advancements represent the foundation of the future of the healthcare system.