Businesses deal with enormous volumes of information and bytes every day. Customers have begun to lose interest because of the widespread use of manual work, delayed response, and continue switching to new technologies. Automation is evolving as a solution to increase productivity and efficiency from an innovation agent that fundamentally changes how enterprise functions to increase productivity and look into new ways to provide creative solutions. It addresses changing market requirements and developing future-oriented products and services as digital transformation becomes necessary to adapt in times of the uprecedented event.
Combining various technologies enables businesses to move from the basic digitization of paper-based procedures to completely automated ones. This approach is called "Hyperautomation". Due to its ability to quickly react to changing conditions, Hyperautomation is rising as a solution and will be crucial in the coming years to enhance output.
To achieve SAP Hyperautomation, SAP's Intelligent robot-based process automation (iRPA), the updated features of Intelligent business management software (iBPMS), Artificial Intelligence (AI) & Machine Learning, and other technologies need to combine. Simply, we can say that Hyperautomation will turbocharge the bots.

Why choose SAP Hyperautomation?
Both for the productivity of a business and the welfare of its employees, SAP Hyperautomation offers a number of benefits. A few of these include
The incorporation of disruptive technologies like AI, ML, RPA, and NLP into a company's day-to-day operations to improve process efficiency, decrease error, and speed up business operations.
Increases worker satisfaction by allowing them to work in a smart environment and don't have to waste their time on monotonous chores that don't offer anything to the business.
Hyperautomation also improves the workforce's capacity to boost productivity and competitiveness.
According to Gartner, till 2024, Hyperautomation technologies and new operating procedures will reduce operating costs by 30%
By compiling commercial information from a variety of sources and formats, Artificial intelligence and big data technologies can help to speed up the process and aid in decision-making.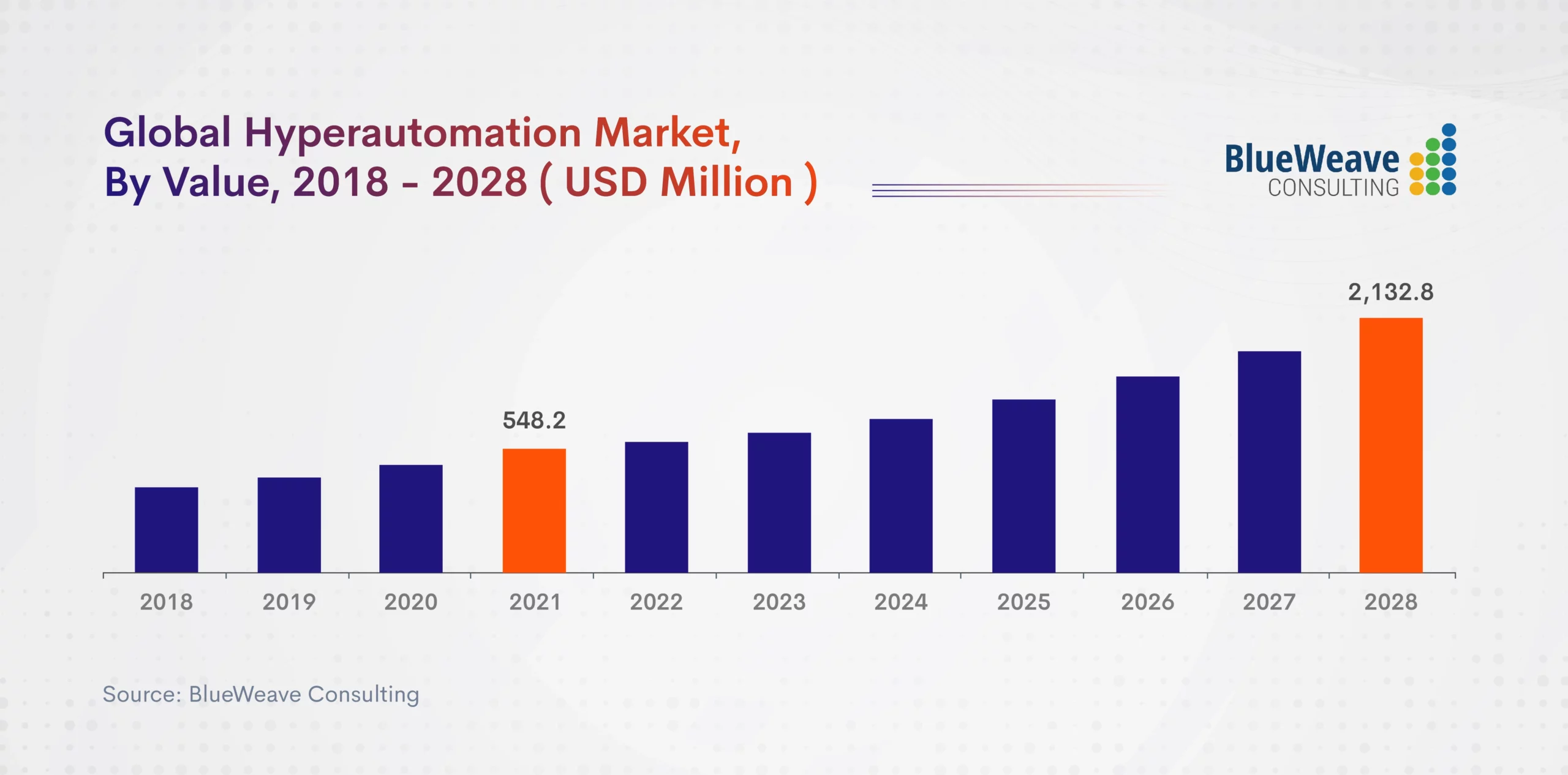 By 2028, the Hyperautomation market is expected to grow at a 22% CAGR and reach USD 2.1 billion. Moving on from RPA, SAP Hyperautomation accentuates and activates the features of Intelligent Process Automation (IPA). IPA is becoming more prominently featured in everyday business activities across many industries. Releasing employees from boring, repetitive work and given more time to use their special human skills.
Now, Let us understand the connecting dot of the SAP Hyperautomation.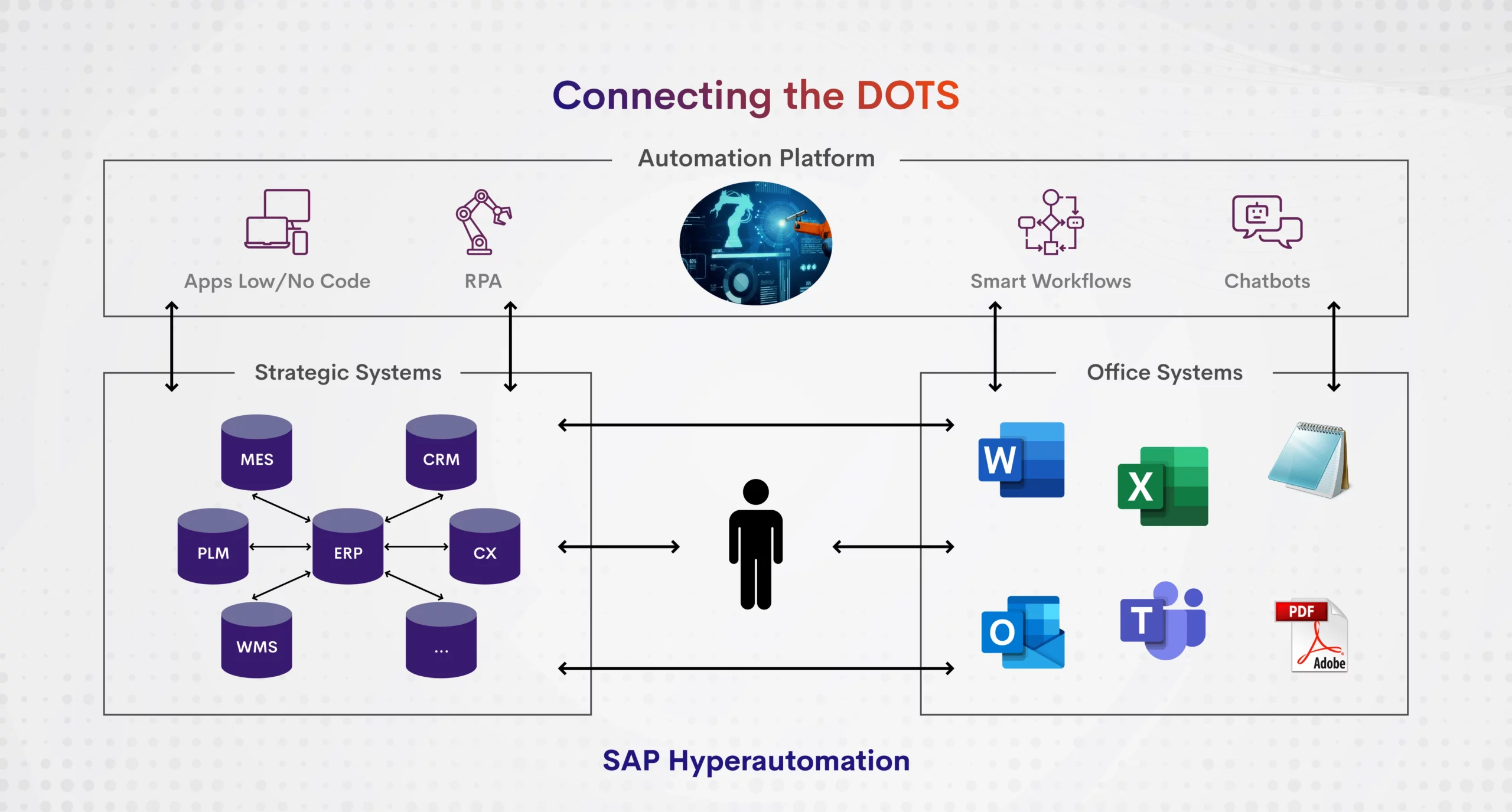 SAP Hyperautomation
Low-code/no-code: 

Low-code/no-code capabilities are a part of SAP Process Automation because they greatly expand the number of employees in an organization who can address business challenges and bring innovation across all business lines and industries.

RPA:

 "RPA enhanced by AI and ML has become the primary enabling technology for SAP Hyperautomation," claims Gartner. Automating undocumented procedures that depend on unstructured data inputs, which was previously impossible, is now possible with the help of RPA and AI technology.

Smart workflow:

 In a large database, searchers may try several times before finding the desired information. That takes money and time, such condition the value of efficient content management is needed. Greater efficiency leads to quicker turnaround times and more time for consumers. You may arrange supplies for your employees more effectively using smart workflow. The actions you take to finish a task will all be part of this smart workflow. It also streamlines and improves those phases through SAP Hyperautomation, AI, and analytics. One can reduce effort and costs, increase capacity, and reduce E&O exposure while integrating smart workflows into process management.

Chatbots: 

Chatbots have become more efficient in recent years, and these can implement in routine customer care duties. To make our lives easier, chatbots can communicate, ask questions, and respond promptly. They also constantly learn new things, which helps us save money and allows for simple customizing and even social network management.
Use your client experience as a reference while deciding to shape the employee experience. Consider the top eateries, amusement parks, or tourist destinations you've ever visited on the date. The most fulfilling experiences are unique and personal individuals. Consider how you may leverage your tools and procedures to create individualized experiences that serve your staff, just as you aim to give personalized, tailored experiences for your customers. To gain insight into whether the integration is effective, what can be improved, and other issues, consider where you have chances for employing machine learning, bots, and process automation.
Like IoT, SAP Hyperautomation or intelligent automation is composed of interconnected parts. They function in a cyclical fashion. The main component of this process is automation. When combined with AI, ML, and intelligent business process management technologies, automation is elevated to a whole new level. In situations when it is necessary, business analysis and scenario building still serve as the foundation.
In nutshell:
Businesses are leaning toward using the SAP Hyperautomation method to satisfy worldwide customer and market expectations. Simplifying and personalizing interactions aids in enhancing client experiences. SAP Hyperautomation, on the other hand, is thought to be the next stage in your company's automation journey. In order to unleash the full potential of automation, it can combine various aspects of automation with its tools and technology integration.
While closing the loop and verifying that the installation of SAP Hyperautomation is producing the desired, high-quality results, we can use data analytics and other ROI assessment tools. SAP Hyperautomation enables an organization to combine complex business objectives, business analytics tools, and the augmentation of human skill and experience as basic automation is used to complete common, simple, and repetitive operations that don't require a lot of intelligence to complete.