In the ever-evolving landscape of artificial intelligence, Generative AI stands out as a powerful tool that fosters creativity and drives innovation. Building an effective Generative AI strategy requires a systematic approach, involving key steps that align with your business goals and objectives. In this blog article, we'll walk you through the key steps to craft a robust Generative AI strategy and unleash its potential in transforming your organization.
The Eight Key Steps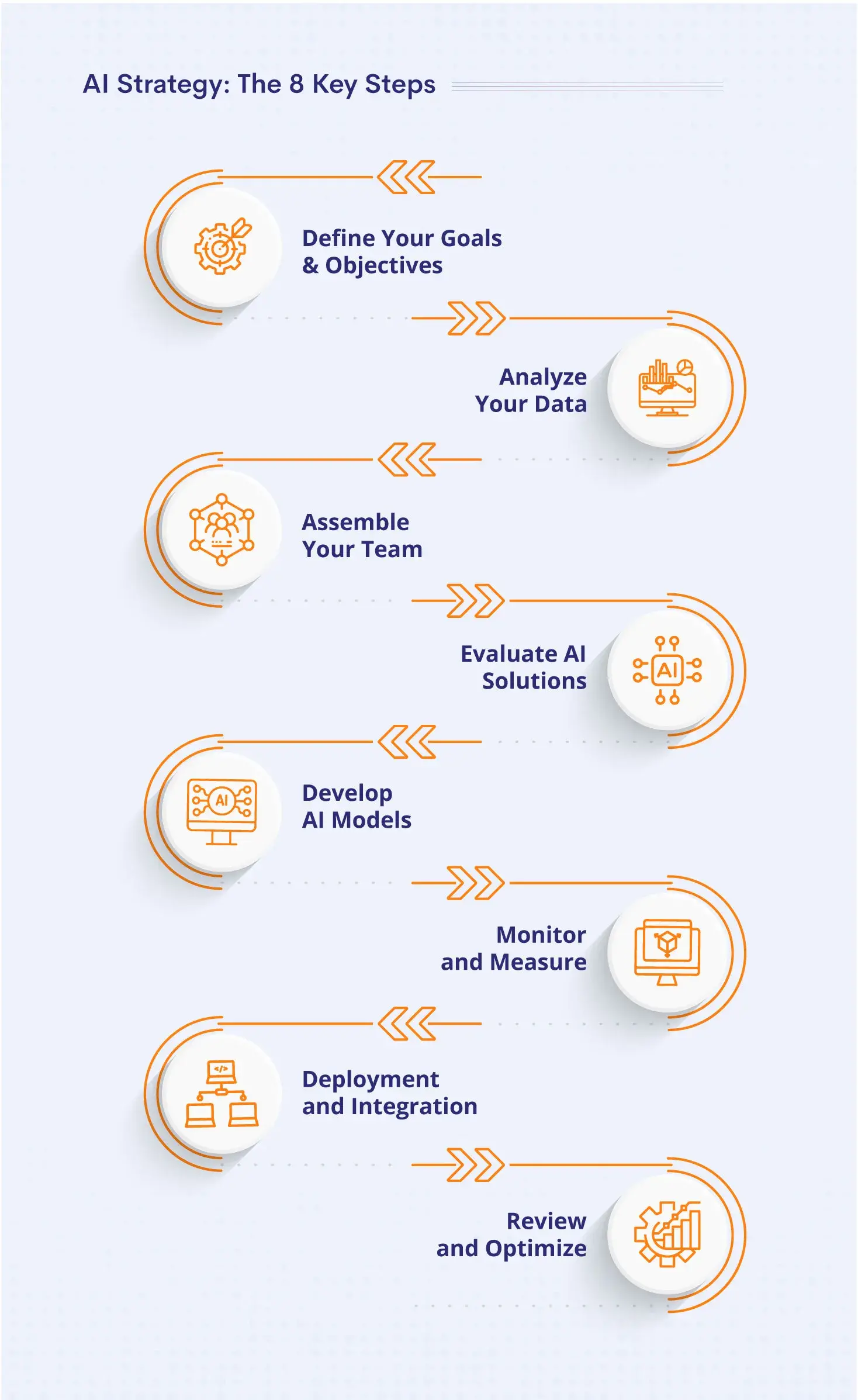 Step 1: Define Your Goals & Objectives
The first crucial step in building a Generative AI strategy is to identify your business goals and objectives for its implementation. Whether you seek to enhance creativity, improve customer experiences, or optimize processes, understanding your strategic priorities sets the foundation for success. Additionally, recognize how AI can complement your existing workflows and enhance creative processes, driving you closer to achieving your goals.
Step 2: Analyze Your Data
Data lies at the heart of any successful AI initiative. Conduct a comprehensive analysis of your data resources, assessing their quality and relevance for Generative AI applications. Identify valuable datasets that will fuel your AI models and support creative endeavors. A robust data foundation ensures that your Generative AI outputs are accurate, relevant, and tailored to meet your specific business needs.
Step 3: Assemble Your Team
A successful Generative AI strategy necessitates collaboration across diverse expertise. Form a cross-functional team with members well-versed in AI, data management, and domain knowledge. Fostering collaboration allows for the amalgamation of unique perspectives, enriching the AI strategy development process. Together, your team will tackle challenges and cultivate an environment conducive to innovation.
Step 4: Evaluate AI Solutions
The AI landscape offers a plethora of Generative AI tools and platforms. Research and evaluate various solutions to find those that best align with your objectives. Consider factors like scalability, ease of integration, and compatibility with your existing systems. Choosing the right tools will facilitate seamless implementation of your Generative AI strategy.
Step 5: Develop AI Models
Designing and developing Generative AI models that cater to your specific use cases is a critical step in the process. Continuously refine and iterate your models to achieve optimal results. By fine-tuning the AI models, you enhance their ability to generate creative outputs, further driving your organization's objectives.
Step 6: Monitor and Measure
Implement tracking and analytics to measure AI performance. Monitor key metrics to assess the impact of your Generative AI strategy on your business goals. Regular performance evaluation helps identify areas for improvement and ensures that your AI initiatives remain on track to meet desired outcomes.
Step 7: Deployment and Integration
With your AI models ready, it's time for deployment. Integrate Generative AI models into your existing systems and applications. Seamlessly incorporating AI into your workflows ensures maximum efficiency and smooth operation of the strategy.
Step 8: Review and Optimize
Regularly review the performance of your Generative AI strategy against set objectives. Optimize the strategy to adapt to changing business needs and market dynamics. Continuous evaluation and refinement are essential to keep your organization at the forefront of AI-driven creativity and innovation.
How can MSRcosmos help?
At MSRcosmos, we specialize in crafting formidable Generative AI strategies that drive innovation and unlock new possibilities for your business. Our expert team collaborates with you to understand your unique objectives and challenges. Leveraging cutting-edge technologies and in-depth domain knowledge, we develop tailored solutions to optimize creativity, enhance customer experiences, and streamline operations. With MSRcosmos as your partner, you can embark on a transformative journey into the world of Generative AI with confidence and success.
Conclusion:
By following the recommended key steps, your organization can build a successful Generative AI strategy that unleashes creativity and drives innovation. Embrace the power of Generative AI to revolutionize your creative processes, enhance customer experiences, and elevate your organization to new heights of success in the world of AI-driven possibilities. Connect with MSRcosmos to build your Generative AI strategy.