In the last 2 to 3 years, digitization has influenced customers in their daily routines such as banking, entertainment, housing, lifelong learning, personal mobility, shopping, travel, dining, and well-being. As per IDC, 90% of global enterprises will be prioritizing investments in digital tools to augment physical spaces and assets in 2023. These initiatives would be continuous and ongoing in the quest of exceeding customer experience (CX). Cloud, being the backbone of digital transformation would be the key driving force.
The latest prediction from Gartner is that global end-user spending on public cloud services will increase by 20.7% to reach $591.8 billion in 2023, up from $490.3 billion in 2022, which is more pronounced than the 18.8% growth estimate for 2022. Undoubtedly, we can assume that companies will continue Cloud services in 2023 in order to access cutting-edge technology to enhance internal operations and streamline business processes. In this blog article, we have listed some of the cloud computing trends you can expect in 2023.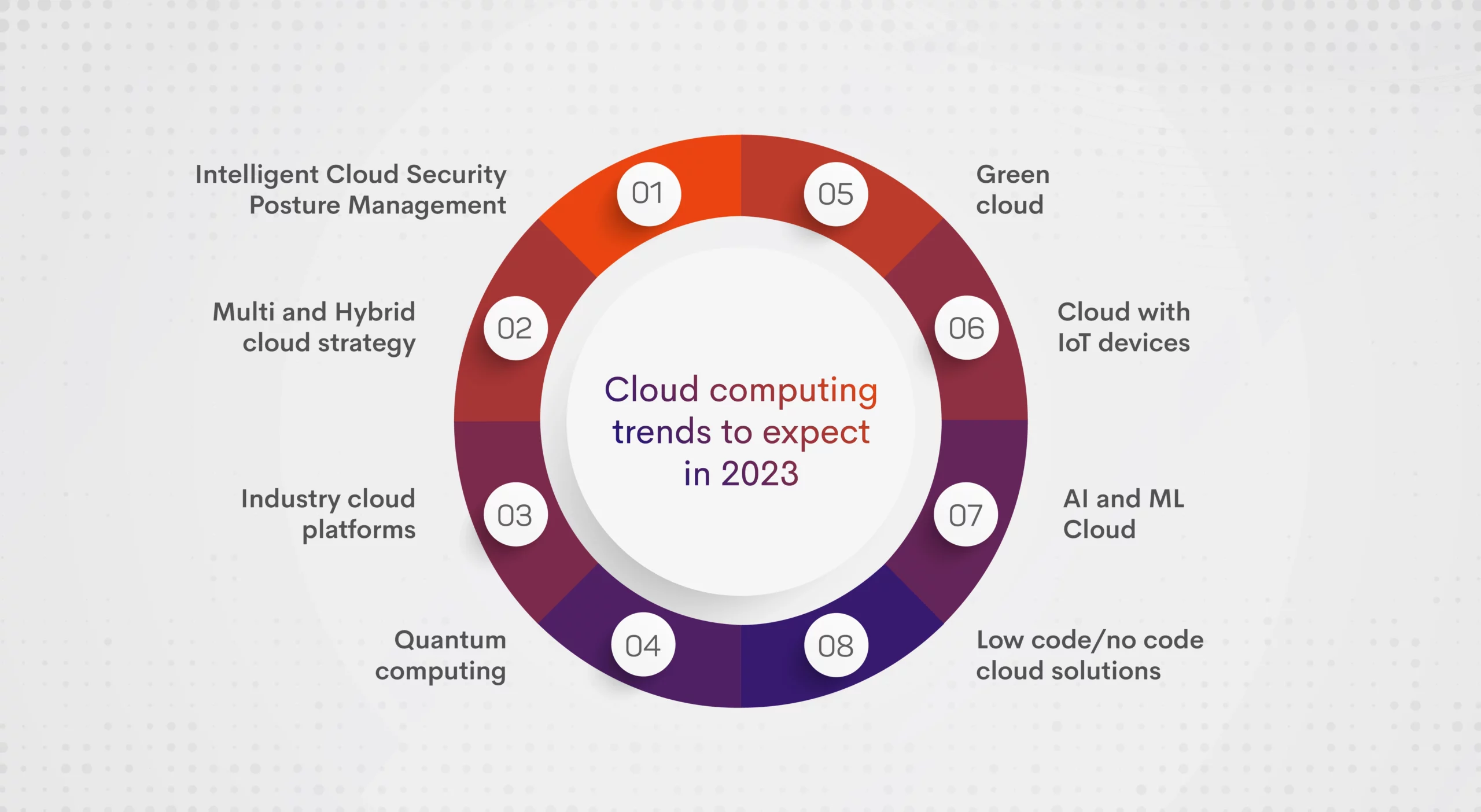 Intelligent Cloud Security Posture Management (CSPM):

The majority of cyber-attacks are due to user errors, poor management, and configuration errors. According to the research firm, by 2025, customers will hold 99% of the responsibility for cloud security failures. Intelligent CSPM solutions would be a certain call to action for securing your cloud investments. These solutions offer identity and data context to prioritize risks, automation and workflows, and remediation capabilities more effectively. Organizations may continuously detect and track any connections between identities and data across the public cloud with the help of intelligent CSPM. These solutions enhance the visibility and control of your cloud by detecting security and compliance issues much faster to mitigate risks. Security would always be a key trend for building a resilient future.

Multi and Hybrid cloud strategy:

Computing workloads are constantly divided among several public Cloud service providers as part of a multi-cloud approach. On the other hand, a hybrid cloud strategy refers to the fusion of public and private clouds. Integrating at least two public cloud infrastructures in combination distinguishes a multi-cloud strategy from a hybrid approach, while it is possible to employ a private cloud in addition to public cloud infrastructures. Most firms currently use multiple IaaS public cloud providers, according to statistics released by the market research and analytics company Statista. By 2021, up to 90% of large businesses were using a multi-cloud strategy, and by 2023, that percentage is estimated to reach 94%. This would be an interesting trend.

Industry cloud platforms:

Industry Cloud platforms add value for businesses by combining cloud services that were previously independently acquired in a pre-integrated but flexible manner. In addition to technological capabilities, industry clouds also provide business capabilities that are particularly pertinent to the selected vertical sectors. Leaders in this field will use composable methods to build maintainable and modular industry clouds. Implementing a cloud platform for industry must be viewed as an exoskeleton that adds new and enhanced capabilities rather than an organ transplant that replaces already existing functions. This cloud trend is estimated to pick some attention in 2023.

Quantum computing:

The market for quantum computing will be expected to surpass $90 billion annually by 2040. There is a chance for significant advancements in a variety of fields due to quantum computing. This developing technology will take advantage of the laws of quantum mechanics to do some computations tenfold more quickly. It aims to speed up the processing of enormous data sets and enable complicated algorithmic calculations. A supercomputer can boost network security and offer strong encryption capabilities for electronic communications. Many leading analysts and cloud experts are pointing towards quantum computing to see a great demand in 2023 and beyond.

Green cloud:

A new term that describes the potential environmental advantages of Cloud services that are made available to society as the "Green cloud." The term "Green cloud" describes methods and procedures for using sustainable IT resources and technical innovations like cloud computing to benefit the environment by lowering carbon footprints. By 2024, more than 1 billion metric tonnes of emissions will be reduced because of the adoption of "smarter" sustainability measures by data centers, according to IDC. In 2023, many companies would embrace the fundamentals of green cloud to build a sustainable future.

Cloud with IoT devices:

The Internet of Things (IoT) is the vast number of physical objects currently operating online, collecting and exchanging data. Businesses can gain useful insights to enhance practically every part of their operations and allow novel, new business models by fusing IoT data with cloud technologies. Not only businesses but also people's lives will undergo profound change as a result of cloud computing and the Internet of Things. Depending on the deployment strategy, the cloud is the sole technology that can analyze, store, and access IoT data. Due to the nature of on-demand information, cloud computing is accessible whenever and wherever there is an internet connection. The wedlock between cloud and IoT devices would certainly be a major cloud trend to watch for in 2023.

AI and ML Cloud:

AI and ML Cloud is another paradigm shift beginning to emerge. ITSM and ITOM are about to undergo a revolution due to the usage of artificial intelligence (AI) and machine learning (ML) (ITOM). New computing infrastructure and support for innovative programming paradigms and frameworks are necessary for AI and ML. We may anticipate that the current cloud providers will soon include AI and ML capabilities as a fundamental part of their infrastructures, and perhaps we will witness the evolution of a new generation of cloud platforms powered by these technologies in 2023 and beyond.

Low code/no code cloud solutions:

The reliance on low code/no code cloud solutions has significantly increased. Companies are thriving on such solutions to create compelling digital solutions, web applications, mobile apps, and more with teams that need not be technology savvy. In 2023, we would continue to witness this trend leaping forward.
Bottom line:
As a means for businesses of all sizes to gain enormous quantities of value, the cloud has begun to achieve its full promise. Cloud computing is constantly evolving and developing as a reliable technology for the future. Cloud computing is proven its significant role in advance of the difficulties of 2022 in the form of compliance and security, and through collaboration with clever, new external solutions. The adoption of cloud technology will continue to transform the environment in 2023 in an incredibly economical way. Businesses would still rely on the cloud for revolutionizing their operating models. Cloud computing has a promising future and will benefit both the host and the client.