The process of transferring and moving applications, data, IT infrastructure, and any other business components to any cloud platform is known as "cloud migration." What matters is how easy and seamless it should be right from start to finish. With the spike in digital transformation, cloud migration has seen significant attention. Lower costs and operational efficiencies are very strong propositions that are hard to resist for companies of any size. This is the very reason that cloud migration across various industry sectors is picking its pace on a regular basis.
The market and impact of cloud migration
McKinsey & Company says businesses that follow the lead of cloud migration outperformers stand to unlock about $1 trillion in value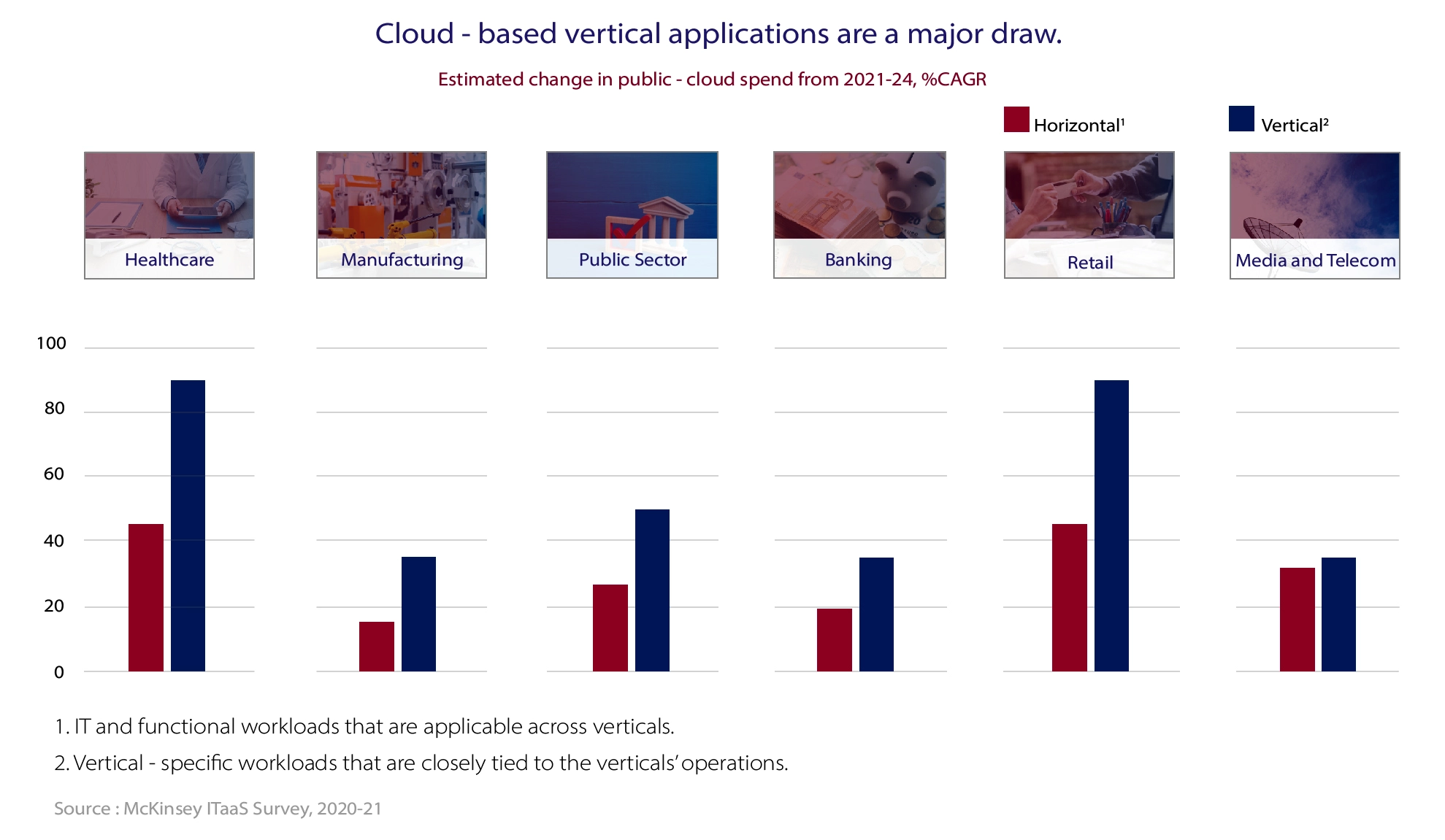 According to Gartner, the cloud will be at the heart of new digital experiences. In 2022, global cloud revenue will reach $474 billion, up from $408 billion in 2021. The impact that cloud technologies will have on any firm is highly incredible. Cloud migration involves one or more clouds. The relocation process is simplified and hastened with minimal disruption and has no business impacts. Over the years, the maturity of cloud migration has taken a big stride. Safer and reliable methods and approaches are built for friction-free cloud migration experience. Automation, tools and accelerators are also induced to rev-up cloud migration.
Key considerations and parameters for cloud migration
Moving to the cloud is a smart step. As a result, it's essential to understand why your business is willing to adopt cloud computing, what capabilities to look for, and the merits of migration. When it comes to using public cloud services, each company has its own set of requirements and challenges.
Before embarking on any cloud migration journey, the following critical parameters must be explored:
Business requirements:

Some industries, such as healthcare, finance, and education, have specific laws governing the storage and use of client data. Prevention of customer data from being accessed by anyone is the need of such industries. If your firm is a start-up or you run an e-commerce business, you would look for cloud migration options that capture your target markets faster. Business requirements are different in both scenarios. As cloud migration of the company will influence the business directly or indirectly, we must first define the requirements, and then decide which cloud migration option will yield maximum benefits. Understanding and outlining the business goals for cloud adoption is the first and most important step to take.

Selecting the right Cloud platform provider:

While determining which cloud platform provider best matches your business and ethical requirements, there are various characteristics to examine and comparisons of services (provided by cloud providers) to evaluate. The first and foremost step would be to select the required provider with extreme caution and evaluation. There are numerous variables to consider. When you need a full execution stack for your IT project, which comprises servers, operating systems, networking, and storage. This execution stack must be comprehensive and reliable. Verify to see if your virtual machine is up to the task of executing your applications. Is the CPU capable of handling the workload? Is it feasible to configure the system such that it has sufficient RAM? Is it possible to archive the data? Is your IaaS up to the task in terms of storage technologies and response times? Is it possible to set up a cluster of machines that all run at the same time?

Cloud migration services costs:

According to Gartner, "Cost optimization will drive cloud adoption." Cloud providers will continue to improve their native optimization skills in order to assist enterprises in selecting the most cost-effective architecture capable of delivering the requisite performance. Most cloud providers deliver a variety of operating models, ranging from pay-as-you-go to user agreements. It's worthwhile to spend time learning about all of your desired cloud provider's operating models and then selecting the one that provides you with both flexibility and cost savings, resulting in a solid return on investment.

Cloud security:

It's probably unavoidable for business and IT leaders to be concerned about cloud security. It's difficult to imagine leaving your mission-critical data and apps to a third party. However, today's reality is that you can reduce risk—and anxiety—by picking a public cloud service provider that focuses on security leadership and trust. Cloud consulting services, provide enterprise-grade protections in key areas like encryption, control, compliance, data sovereignty, and business continuity.

Setting up a Cloud migration strategy:

Moving workloads to the cloud, necessitates a well-thought-out migration strategy that addresses a complex mix of functional and technical difficulties, reorganization of employees and resources. There are options for both the type of migration and the type of data to be moved. A cloud migration strategy is one of the most crucial aspects of any cloud transformation journey. The entire migration project is dependent on it.
Bottomline
Cloud is inevitable! There is no denial. Anyone from any field can unleash the power of the cloud to conquer their digital transformation ambitions. Individuals can make informed choices on how to effectively make use of the cloud's features by understanding the various services, models, benefits, and risks they offer.
MSRcosmos has been helping clients in choosing the right cloud option for their business. Our unmatched partnerships with leading cloud providers such as Microsoft, AWS, and Google Cloud allow us to be a preferred partner of choice. If you looking for cloud migration, our cloud experts will collaborate to meet your present and future IT requirements as smoothly as possible. Connect with us for a free cloud migration assessment.