Manufacturing industry is going through a transformational change. With cloud technology, new possibilities are emerging regularly for manufacturing industry. This blog article explains how cloud adoption is significantly increasing in the manufacturing world including key drivers and benefits.
Cloud adoption in manufacturing :
In contrast to many other business applications, manufacturing systems are typically connected to plant machinery. Due to additional failure points supplied by external network circuits and their latency, remote hosting can face additional difficulties. The cost of unforeseen outages can be significant because many applications are essential to production. Security and data privacy are also major issues because manufacturing data frequently reflects a company's intellectual property. Typically, corporations are well aware of these hazards. A majority of the treatments are new, and methods for preventing/mitigating them are less well recognized. But a number of technological advancements have made cloud hosting one of the most dependable and secure hosting alternatives. Cloud service providers (CSP) offer multiple services to safeguard the applications and data businesses are holding. Cloud helps manufacturers enjoy a significant benefit in terms of accessibility, affordability, and speed. As a result, IDC expects global cloud infrastructure spending to reach $90.2 billion in 2022, up 22% from 2021.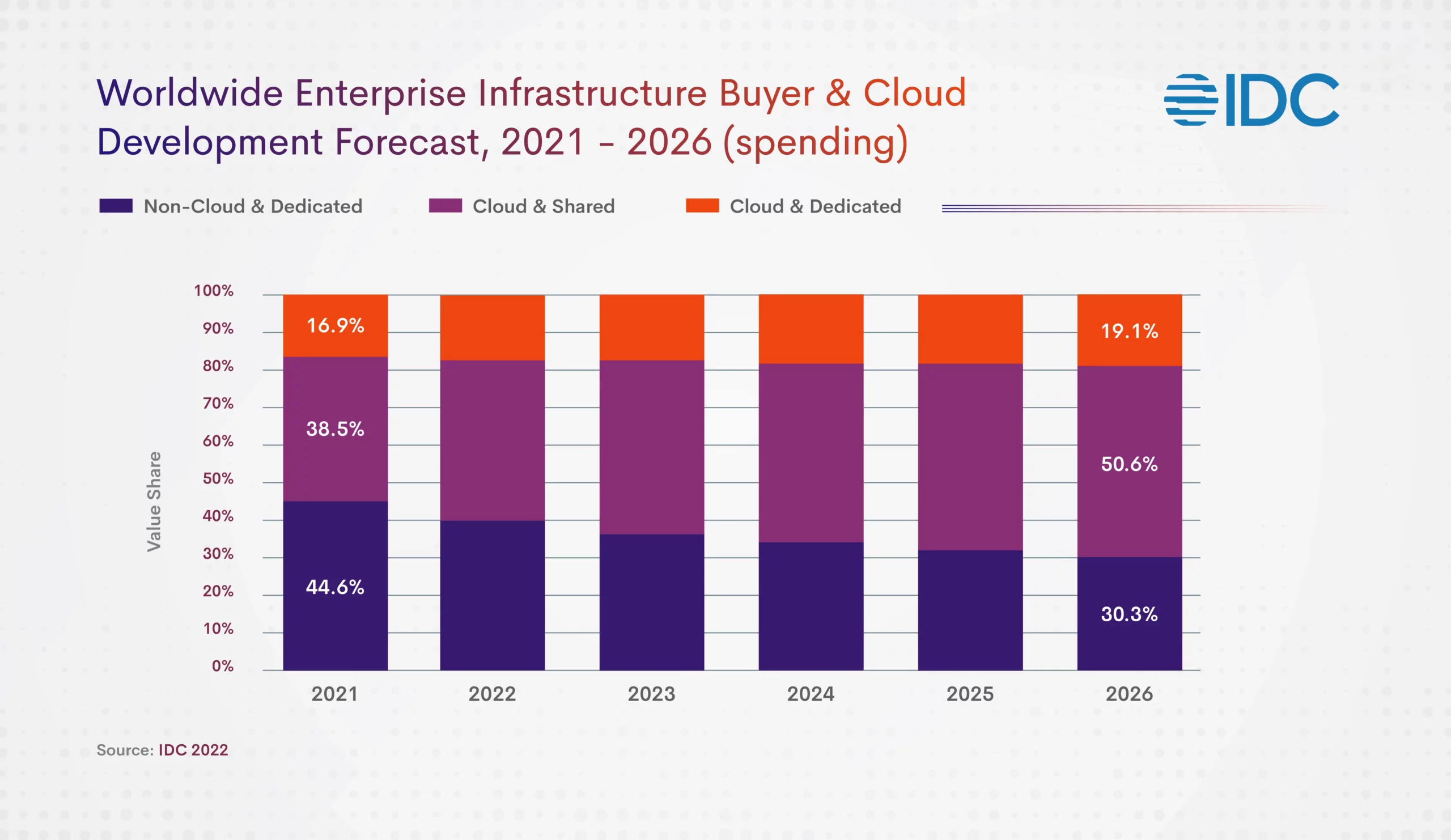 Manufacturers may now begin to use their data because it is now possible to gather data from a variety of sources on the manufacturing floor and send it to more potent and sophisticated cloud computing systems. By creating and deploying models at the edge, businesses may construct and deploy models in the cloud, properly understand their operations and their flaws, and make actual changes for improvement.
Reason for accelerating cloud technology in manufacturing
Business resilience:

Organizations of any size and location can suffer from unanticipated incidents. Interruptions might occur at any time like virus epidemics, bad weather, power outages, and many other situations. Every company requires a business continuity strategy to ensure that operations can continue even in the face of major calamities.

Business operation evolution:

The cloud is anticipated to significantly alter the economics of IT in the years to come because of the measurable service, on-demand self-service, redundancy, resource pooling, scalability, and wide network access it offers, in addition to other technical advantages.

Remote working:

Work-from-home options have changed how businesses operate. So it's time to make investments in technology and procedures to boost productivity and provide workers the freedom to execute their jobs without interference. Nearly half of the workloads at the organizations McKinsey examined are currently being run on public and private cloud platforms. In data centers constructed by the major cloud service providers, approximately two-thirds of that workload will be located on shared public platforms by the time that share reaches 75 percent in 2022.

Government Support:

To promote innovation and economic expansion, several governments now use cloud computing. Additionally, it is viewed as a fresh business approach that enhances the efficiency of local government agencies. The high level of security provided by CSPs may have a big impact on cloud computing acceleration.

Environmental sustainability:

Adopting the cloud helps to integrate sustainability and bring about significant change that is beneficial to business, society, and the environment. It also helps to reinvent, rebuild, and reshape to achieve the environmental sustainability of our global economy so that it works for all key stakeholders.
Benefits of Cloud in Manufacturing
The main goals of cloud adoption are to address issues with outdated software, disjointed systems, ineffective demand planning, excessive costs, and low productivity.
Business agility:

With its cutting-edge technologies, cloud computing is enabling manufacturers to be more agile. Forbes claims that because cloud-based technologies are more quickly implemented than conventional systems, manufacturers can better keep up with new innovations. Additionally, they are simpler to grow, configure, and come with the potential to boost acceptance rates among the user.

Efficient data handling:

Manufacturers must closely monitor recent data if they want to stay on top of current trends. Businesses are able to securely store and manage data using a cloud powered by OpenStack. They may keep track of demand, deliveries, and stock availability by building a knowledge base. These extensive databases enable companies to expand their operations precisely.

Reduces human effort:

To properly balance supply and demand, manufacturers should reduce their dependency on their workforce rather than cutting back on it. With the help of additional technologies like CRM, the production process will move more quickly and accurately while also increasing its overall correctness.

Cost-effective:

Manufacturers can save money using the cloud because building up an internal IT infrastructure is expensive due to the upfront costs of hardware and software, the need to hire qualified employees to operate and maintain it, the cost of electricity, etc. The pay-per-use nature of cloud computing eliminates the need for an initial investment and makes it more cost-effective.

Maximize delivery process:

Organizations can produce accurate forecasts using industrial software that draws power from the cloud. Demand and capacity planning can be aided by these cloud-generated projections, which change throughout the year. Time can be saved on manual categorization and other duties by using cloud-based software to help create device history records.
Ultimately:
Artificial intelligence, the Internet of Things, data analytics, and other cutting-edge technologies are now being used by manufacturers as a boon of Cloud technology, which is increasingly serving as the company's structural base. In the future, the cloud will serve as the cornerstone upon which the industry constructs the futuristic smart factory.
Cloud platforms and services from MSRCosmos assist in creating an agile IT ecosystem with the hybrid multi-cloud environments, security, and network you require on a global scale. Our top-notch cloud solution gives an ability to expand internationally, while enhancing productivity and efficiency and providing a seamless client experience.