AI improves the way robots and humans collaborate, making life easier for both consumers and enterprises. Data is at the heart of AI and other cutting-edge technologies. The importance of becoming data-driven, is being recognized by business leaders all around the world. Enterprise AI boosts consumer interactions and delivers operational and process benefits across sectors.
Cloudera Data Platform (CDP) allows businesses to manage and analyze enormous amounts of data in public, private, hybrid and multi-cloud environments. CDP can scale up and scale down the necessary cluster hardware and software, both on-premises and on-clouds to accommodate data and workloads. Existing on-premises implementations can explode to the cloud for performance by organizing, optimizing, and processing data where it is most appropriate. It eliminates the need for on-premises and cloud data to be stored on separate platforms. The Cloudera Data Platform allows data to flow freely and in any direction between clouds, eliminating the need for costly rewrites or reworking. Cloudera's existing technology enables users to create and deploy AI solutions at any scale quickly and securely. It provides a modern corporate platform as well as tools to help you get the most out of your data.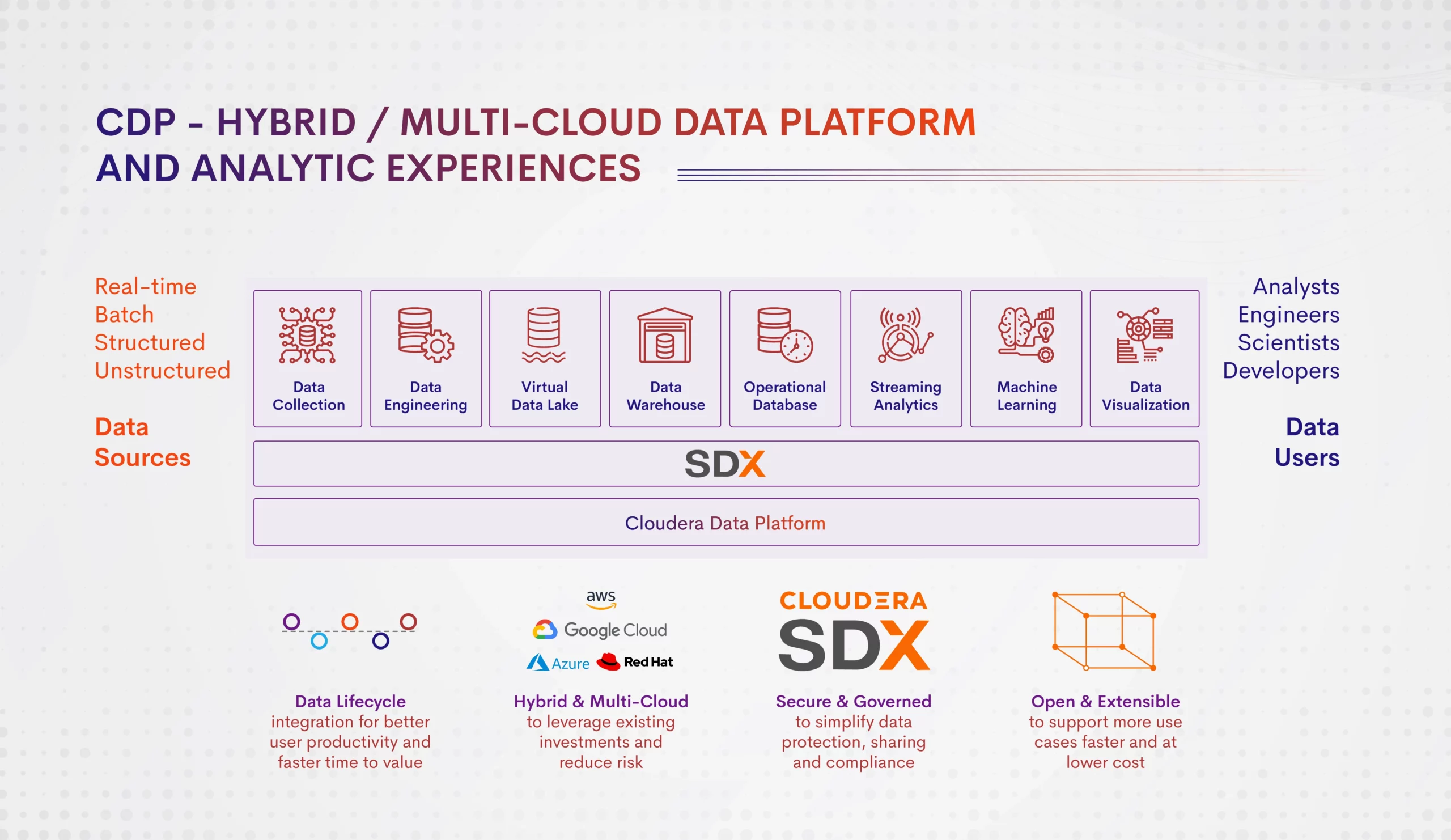 The following are the solutions offered by Cloudera data platform:
Data Engineering 
Data Science workbench
Operational Database 
Data Warehouse
Multicloud or on a hybrid "cloud / on-premises" deployment.
1. Data engineering:
From machine learning to data warehousing far beyond, Data Engineering simplifies data pipelines for analytic teams. Accelerate speed to quality by managing and automating workflows that provide selected, high-quality datasets securely and transparently to any location.
2. Data science workbench:
CDSW allows data scientists to work within CDH and HDP platforms that are secure. Users' comprehensive data visibility, platform-wide governance, auditing, and lineage. CDSW can used by businesses to undertake safe, collaborative data science at scale, allowing them to swiftly source fresh data. CDSW enhances your existing analytics stack by providing a collaborative environment that fosters the most up-to-date open source languages and libraries. Make greater use of your existing data management investments while also gaining access to new data science tools.
3. Operational Database:
The CDP Operational Database is a dedicated server cloud-native operational database that offers unmatched scale, performance, and dependability. It gives developers the freedom to choose the optimum storage, indexing, and querying options for themselves and their applications. The CDP Operational Database streamlines the database deployment procedure.
4. Data Warehouse:
Cloudera's contemporary Data Warehouse enables high-performance business intelligence and data warehousing in both on-premises and cloud platforms. Without the help of IT, teams can directly investigate and build on data, execute new reports and workloads, and view interactive dashboards. In addition, by integrating data marts into a scalable analytics platform, IT may minimize the inefficiencies of "data silos" and better fulfill business objectives. Data can be accessed by more people and tools, including data scientists and data engineers, owing to its open architecture, offering greater value at a cheaper cost.
5. Multicloud or on a hybrid cloud / on-premises deployment:
Public clouds enable analytics, to be more dynamic and self-service. It reduces risk, and expenses to makes sense to pursue hybrid and multi-cloud infrastructures. In a hybrid IT architecture, data is stored both in the cloud (and increasingly in several clouds) and on-premises. Companies must anticipate that the applications that power their modern data strategy can operate in various architectures across several environments.
Industry use cases:
To be genuinely data-driven, you must incorporate data into every aspect of your business, from technology to culture. Only a few back-office activities required data in the not-too-distant past. It is now useful to all firms and their strategic management. It is becoming increasingly important. It takes more than data infrastructure and recruiting data experts to run a data-driven company.
Manufacturing:
Manufacturers can use Cloudera data platform to ingest data from a variety of sources, including streaming and enterprise data sources, store and process it across hybrid infrastructures, run analytics on it, and apply machine learning algorithms to it all while maintaining enterprise data security, governance, and control across all environments. Manufacturers may leverage the data they generate every day. To obtain real-time access to their operations and supply chain, improve operational performance, enable predictive maintenance, and assist in building new income streams with improve visibility and insights at the point of decision.
Healthcare:
In scans to detect malignant tissue, healthcare providers can use data insights for detecting trends and propensities for diseases and diagnoses. New IoT devices, such as wearable technology enable real-time visibility and new patient monitoring choices. It is transforming the business of medicine. It allows consumer-related businesses such as insurers to predict medical care needs ahead of critical times.
Retail and sales:
Data used by retailers to improve customer experiences and boost sales. Customer analytics can be used to target customers based on their purchase history. It reduces attrition and improves sales.
Financial services:
Financial services are able to separate workloads from mission-critical programs by using Cloudera's hybrid strategy. These applications are then deployed to the public cloud. The private cloud's data store was made publicly available with real-time bidirectional replication.
Telecommunications:
 Telecommunications businesses are using analytics to do previously unachievable client segmentation, which results in a better mobile experience and more effective marketing. The new analytical environment processes huge amounts of real-time, granular network signal and batch data from billing systems, payments, and other sources.
Bottom line:
It's vital to evaluate how architecture decisions affect your data strategy, whether you've gone all-in on the cloud or transferred some workloads, or simply looking into how the cloud affects your organization. Transition to a hybrid cloud-enable to go from pilot to production fast, effortlessly, with lesser cost and peak performance. It allows for maintaining consistent data security, governance, and administration.
Cloudera Inc, a multi-cloud data warehouse solution provider, has been rated a strong performer in the cloud data warehouse category in The Forrester WaveTM — Cloud Data Warehouse, Q1 2021 study. It is a modern data platform that can run in any environment and is adaptable enough to deliver the applications that IT, data engineers, business analysts, and others require to extract more value from their data.