Demand for time to market is constantly getting shorter. Startups, SMEs, and major enterprises are adopting Data Analytics to enhance customer experience, streamline current operations, cut costs and take more precise decisions. Data Analytics uses historical data to identify trends, and Artificial intelligence (AI) examines data, formulates hypotheses, and aims to predict events more correctly than humans. For example, virtual assistants serve customers by shortlisting options and letting them purchase items they haven't even seen yet. It changed the way consumers purchase goods entirely.
Any data we gather must be able to be transformed into meaningful information; otherwise, it will likely just be a waste of resources and increase complexity. Researchers are having a very tough time describing the data's correlation patterns in the real world, as almost everything interacts with everything else.
Today data handling is managed through algorithms but it requires data to function, but we can not fall into the trap of "just" gathering and storing more data. We have kept our technologies useful throughout history. The best approach is to be proactive and learn how to handle and regulate these technologies in real-time while adopting the changing trends.
To find out which Data Analytics, AI Predictions, and trends are most exciting for 2023? This blog article reflects upon the Data & AI trends that are expected to make an impact in 2023. Let us look at each of them below.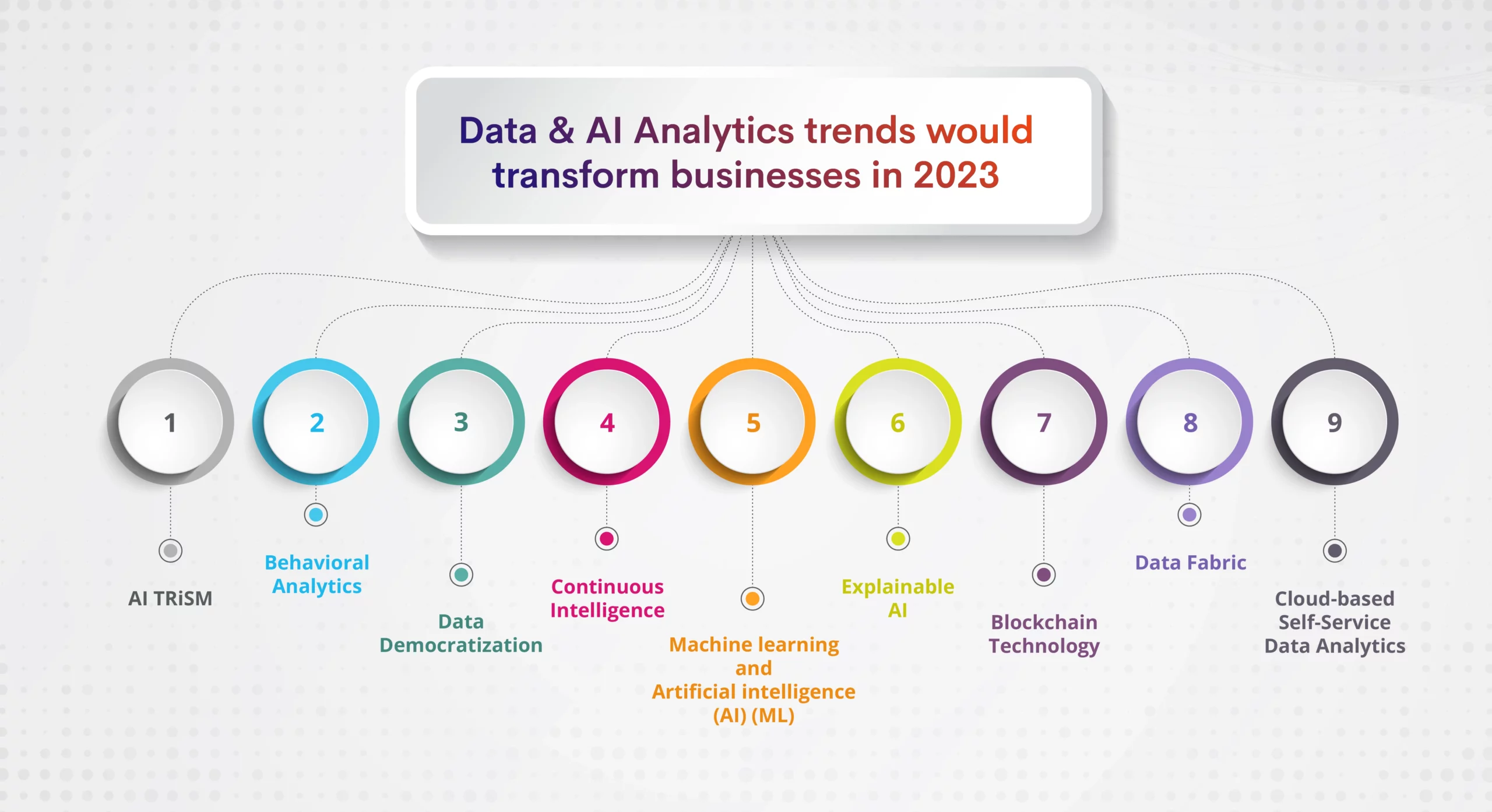 AI TRiSM:

As a framework, AI TRiSM supports the governance, fairness, robustness, effectiveness, and privacy of AI models. AI rules are expanding, but even before safeguards are required, it's critical to put processes that guarantee consumer protection, trust, and transparency. IT executives must use new AI TRiSM capabilities to ensure model dependability, credibility, privacy, and security. We expect 2023 would see many corporates betting on AI TRiSM for data governance and compliance.

Behavioral Analytics:

Organizations utilize Behavioral Analytics extensively for marketing, consumer intelligence, and personalization. Businesses are investigating further applications for behavior analytics, particularly in smart city projects, detecting traffic patterns, monitoring medical shipments and cold storage for breaches, etc. Behavioral analytics is expected to see a wider acceptance in 2023.

Data democratization:

Data democratization can become the key to future-proofing your business. Free flow of the data across the management of a chosen set of specialists to the hands of various people inside the organization makes self-service analytics viable. In our data-driven world, data democratization is essential to fostering equity, justice, transparency, and opportunity for all. Companies would certainly have data democratization initiatives lined up for 2023.

Continuous intelligence:

The application of tools and procedures that incorporate real-time analytics into company operations, carry out automatic computations, and make recommendations for particular courses of action is known as continuous intelligence. The emergence of real-time data pipelines and augmented analytics transforms how humans and machines react too quickly to changing circumstances, offering insights and launching actions when it counts most. This a good trend to watch in 2023, keeping in context the way the digital economy has opened up doors for ample business opportunities.

Machine learning and artificial intelligence (AI) (ML):

Businesses heavily utilize AI and ML to evaluate data on many parts of their operations and formulate appropriate strategies to get improved results in terms of business analysis, risk assessment, R&D, and cost reductions. In 2023, we would see many corporates amplifying their operations using the best of AI and ML capabilities.

Explainable AI:

It contributes to the definition of model correctness, fairness, and transparency, and results in AI-powered decision-making. When putting AI models into production, a company must establish trust and confidence by using explainable AI. AI explainability aids a company's adoption of a responsible strategy for AI development. This is a definite trend to watch for in 2023.

Blockchain technology:

The big data explosion has brought with it a flood of data and a pervasive business demand for investment. ROI is a must for any business investment. Businesses desire a return on their investment from the vast database they amass. They want the data to offer significant insights that the company can use to gain a competitive edge, and they want this advantage to result in sales. In 2023, data scientists and corporate organizations are thinking about combining big data with blockchain technology in order to speed up operations and develop better fraud detection systems in light of the success of cryptocurrencies that use this technology.

Data Fabric:

The information is frequently challenging to locate and evaluate as businesses increasingly store text, videos, photographs, audio files, and other types of data across numerous Data Lakes, Data Warehouses, and Hybrid Clouds. These businesses require a secure and unified view of particular data in order to provide employees and clients with the appropriate information at a time, regardless of the format or location of the data. As a result, data management teams are turning to data fabric solutions. This is an interesting 2023 trend to keep an eye on.

Cloud-based Self-Service Data Analytics:

 Self-service data analysis on the cloud has become the newest hot trend in data analytics due to cloud-based management solutions. This shift is led by the people who have made significant investments in cloud-based technology solutions that give all users easy access to the data they require. Self-service analytics directly places data in the hands and minds of the users because they are the ones who need it. You may improve your efficiency and competitive edge with cloud-powered self-service analytics. Self-service analytics has the potential to completely overhaul a business process. Cloud use cases are rapidly growing beyond many boundaries for fueling digital transformation. 2023 would certainly await to see the adoption of Cloud-based Self-Service Data Analytics for informed decisions.
Wrapping up:
Many businesses have struggled to implement the idea of transforming a data-rich world into a data-driven one. On the other hand, businesses started to use analytics but failed to fully leverage data analytics's potential. They have invested heavily in technology in response to intense competition, but businesses haven't made the organizational adjustments to utilize their expenditures. Additionally, they might need to fully digitize their business processes in order to get additional information from their assets, internal procedures, supply chains, consumer interactions, etc. Organizations will use realistic techniques in 2023 to significantly increase operational efficiency and unlock the value that has lain dormant for so long, realizing the enormous potential left on the table. The most sophisticated data & ai strategies will increasingly focus on the most valuable and recent data as more businesses turn to data to provide them with a competitive edge.dge.
As artificial intelligence advances, more and more data analytics trends will appear and flourish in the coming year (2023), 2024, and beyond.