Digital disruption has enabled manufacturers to reinvent their factories of the future. Limitless possibilities have arrived in the manufacturing world with the evolution of data & analytics. Using data & analytics, manufacturing companies can not only enhance their business productivity but also reduce costs and streamline operations. Access to the data that enables businesses to comprehend every facet of a workflow can help them make well-informed decisions.
The McKinsey Global Institute claims that data-driven businesses are 23 times more likely to attract clients, six times more likely to keep them as clients, and 19 times more likely to be profitable.
The possibility for manufacturers to examine all the data from the production, distribution, and procurement processes are tremendous. Although the quantity and variety of data provide substantial hurdles, Data & Analytics adds great potential for manufacturers to increase overall efficiency and profitability.
The manufacturing industry can benefit from data & analytics while collecting and visualizing data in real-time from many areas of its operation. Massive amounts of data are fed to cloud-based analytics systems by equipment connected via sensors and edge devices, which can process and comprehend data much more quickly than human-being. The business can then significantly improve its processes and make real-time decisions from this data. Data & analytics is taking off boardrooms throughout the globe, giving enterprise-wide tools for commercial success. Precedence Research estimates the market for data analytics will be worth USD 41.39 billion by the end of 2022. The big data revolution has led to the development of new stages, types, and forms of data analytics.
Recent advances in big data analytics open up new business opportunities. Here, we tried to list out some of the advantages of data & analytics in manufacturing.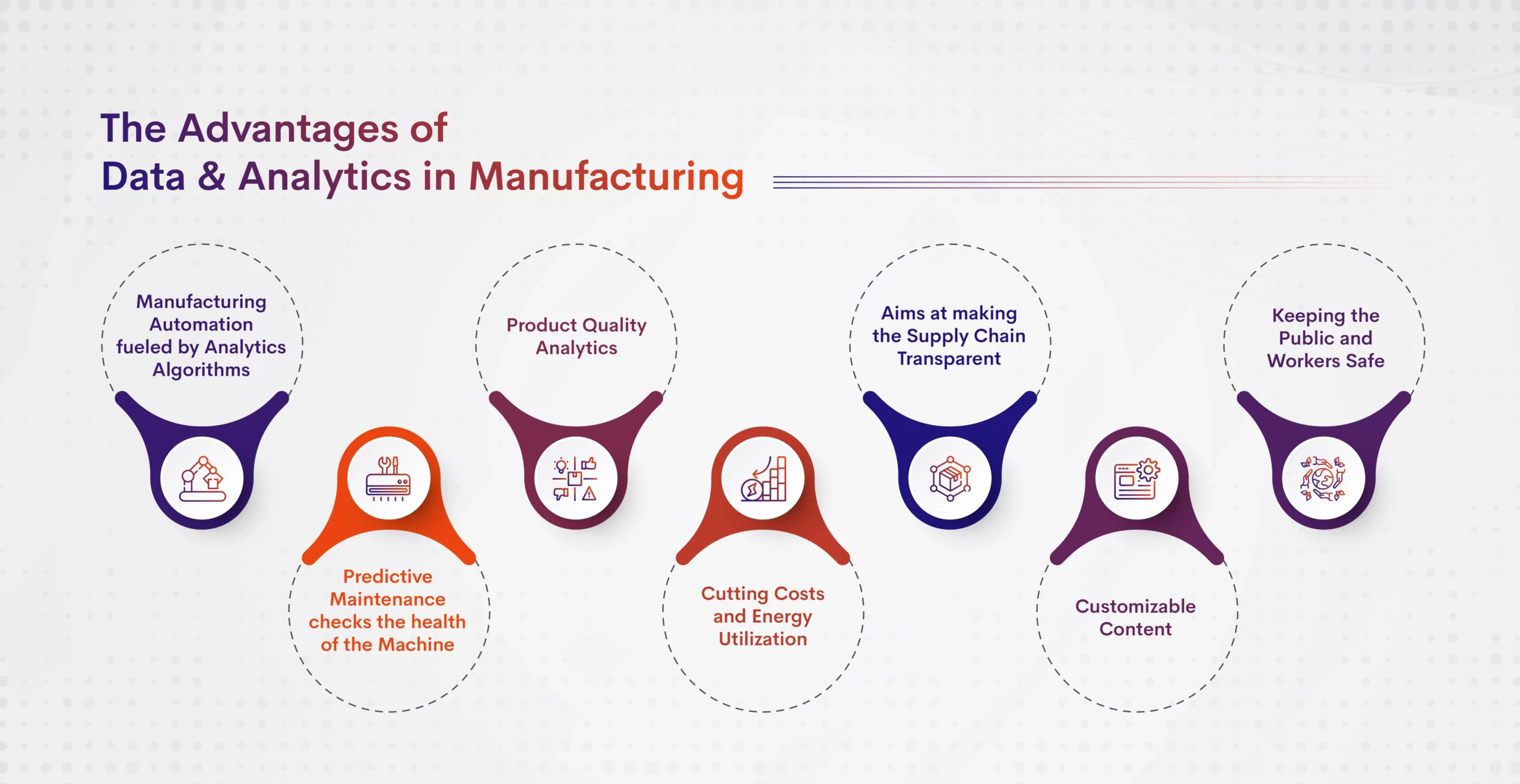 Manufacturing automation fueled by analytics algorithms –The process of creating a new industrial product is expensive and uncertain. Analytics can help you achieve the features and standard of quality your customers expect by removing a lot of the guesswork involved in product design. With the help of advanced algorithms driven by data & analytics, from shipping raw materials to inspecting the final entity will operate with a minimum or zero human labor throughout the manufacturing sector.
Predictive maintenance checks the health of the machine –You can spot patterns that point to possible issues or failures by connecting to devices and tracking the data generated through them. Then, you can use these understandings to deal with problems before they arise. You can maximize equipment lifetime and reduce downtime by having the capacity to forecast when equipment or assets need repair and enable operations to go beyond static maintenance plans.
Product quality analytics  –Product quality analytics is the focused usage of data & analytics methods to enhance a product's qualities. The foundation of any business's long-term success is the provision of high-quality goods and services. Product quality analytics can speed up quality inspections and identify potential downstream quality issues to forewarn operators. Additionally, quality-related analytics can help operators by offering suggestions for solving problems and troubleshooting. 
Cutting costs and energy utilization –For almost any production activity, energy is a major contributor to operating expenses. It can be tough to ensure that high-energy operations run at off-peak energy cost hours due to the constant fluctuation in energy prices. In manufacturing, advanced analytics can reduce costs by providing insights into energy use and cost at every point of use and recommending which operations to run when. 
Aims at making the supply chain transparent – Data & analytics shows transparency throughout the supply chain in the manufacturing sector. Manufacturers may significantly improve the supply chain by gathering and analyzing the massive amounts of data generated from numerous sources, ranging from ERP systems within the firm to supplier's business, orders, and shipment information for the customer, shopping habits, etc. For instance, manufacturing businesses might look for possibilities to optimize anything from demand forecasting and inventory management to price optimization by looking at various processes and their interdependencies. Data & analytics also makes it feasible to decrease risk and anticipate with greater certainty whether or not a supplier will deliver products as agreed. 
Customizable content –Businesses may tailor their marketing campaigns and increase their success by knowing what customers want before customers even realize it themselves. Companies can tap into their client base using data, which allows them to customize their advertising to target a particular population and predict how this group will respond.
Keeping the public and workers safe –Environmental or safety issues are the most expensive to a business. Beyond any harm or damage to people, property, or equipment, the costs are substantial. Even beyond non-compliance fines, they go further. Incidents involving safety and regulations can erode the confidence of the staff, their families, neighbors, and clients. Detecting, monitoring, and forecasting dangers and pollution levels, data & analytics ensuring safety of employees, facilities, and communities can greatly benefit from insights and early warnings of potential issues, which will also help the business maintain its reputation as a responsible corporate citizen.
Key takeaway:
The primary goal of the current industrial revolution is to improve the physical world with the aid of the digital one to create distributed production infrastructures with faster feedback and control loops. Using analytics enabled by real-time data, the manufacturing sector is starting to not only make better, faster decisions but also introducing automation throughout the business. The manufacturer also avoids the price and hassle of shipping out equipment covered by warranty for repair by using this equipment data. It can proactively identify and fix possible faults before they arrive.
Businesses that successfully incorporate data & analytics into their business will have a competitive advantage, while those that put off implementation risk starts falling behind. Data & analytics assist companies in better understanding their target markets and customers to improve marketing initiatives. If you want to reduce friction in business, data & analytics will work as the best lubricating agent. MSRcosmos will assist you while stepping into the world of data & analytics smartly. As you can see, data offers organizations a never-ending, growing opportunity to develop and outperform their most formidable competitors. Whatever it is, data can make it better. There is no end to the value data can provide businesses, from automating operations and targeting consumers to developing product quality and raising revenue. In the fiercely competitive business world of today, only those who invest in it and use it to improve business outcomes will survive.