Businesses are utilizing numerous systems, databases, and applications resulting in vast data generation. One must consolidate all the data in a single place in order to analyze them better. However, handling and managing such huge tons of data can be a daunting task without adequate systems and processes in place. Data warehouses, data lakes, and streaming systems are just a few tools enterprises are currently adopting to develop their big data infrastructures.
Adopting a data pool should be the next step to enable varied applications. Databricks, a hybrid of a data lake and data warehouse, has emerged as the lakehouse that will assist companies in establishing a new market trend.
Are we about to enter a new era? Or is it just a trendy marketing term? Let's explore it in more detail.
What is Databricks?
Built on Apache Spark, Databricks is a unique unified analytics platform that combines machine learning and data processing into a single, cooperative initiative. Databricks platform helps automate complicated data pathways and offers auto-scaling for massive data clusters, all powered by a quick and potent runtime environment. Databricks equips teams working on data science and machine learning with a single platform and allows them to prepare data, process it, and oversee the entire ML lifecycle, from experimentation to production. Databricks makes it simple to collaborate, access the compute power you need, and maintain all data science projects in one place – on a managed, secure, and scalable platform – regardless of your experience, skill level, or preferred tools.
Who often utilizes Databricks' solutions?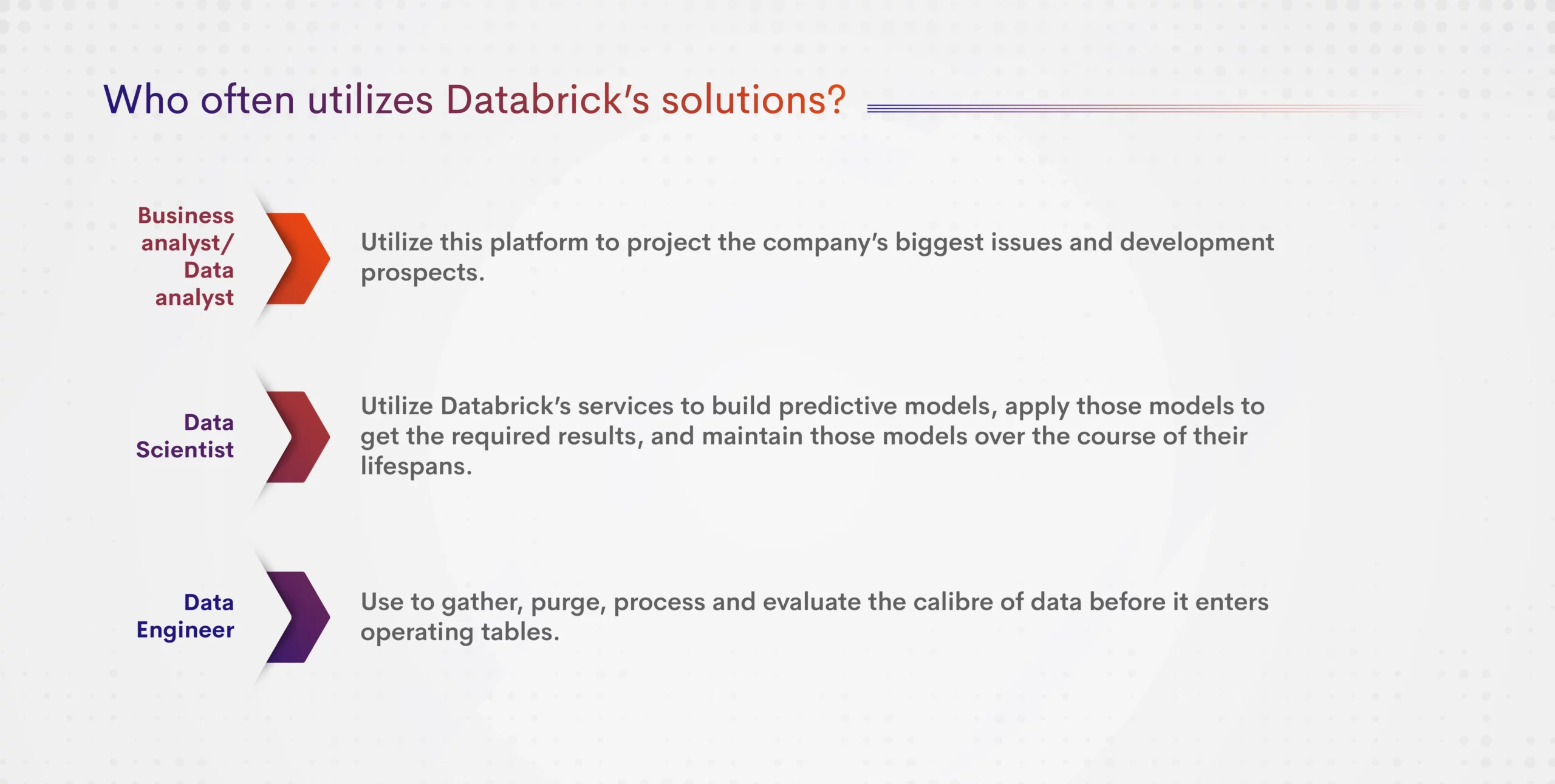 By visualizing the query, this data technology aids users in comprehending requests. The inquiry is simpler to understand as a dashboard includes charts and other visuals. In this way, the data will be understandable for C-level executives and data scientists. It makes it possible for the entire organization to make data-based decisions.
Databricks integration with AI:
In the complicated and constantly changing IT environment, automation is rapidly spreading its roots in different sectors, and AI is a critical tool for making this possible. The global market for technology that enables "hyper-automation" will reach $596.6 billion in 2022, up from around $532.4 billion this year, according to Gartner analysts. This amount was $481.6 billion in 2020. By enabling Artificial Intelligence to be done via the Lakehouse Platform, Databricks relieves businesses and end users of the resource and financial burden. In addition to integrating the data tools they already use, businesses will be able to find new pre-validated options that could support their needs.
When Databricks use as part of a data mesh architecture, it can play a crucial role in creating the infrastructure and tooling that connects the drown insights and the data coming in. It helps to streamline and integrate the technical components of the data mesh, enabling businesses to grow their data tools efficiently and make them valuable as a component of a larger data estate. Businesses can fully unleash the power of their existing data and the tooling within Databricks due to the combination of the cohesive Databricks platform and the larger data mesh architecture.
Numerous cases from a variety of industries show how AI may actually revolutionize an industry. Organizations using unified analytics will have a competitive edge since they can develop data pipelines across numerous siloed data storage systems and prepare labeled datasets for model creation. Databricks make it possible for businesses to apply artificial intelligence (AI) to their current data and iteratively apply AI to huge data sets.
Usually, customers pay various fees to access resources via various cloud platforms. Regardless of the services customers select, there is no upfront payment, and the costs are calculated based on the resources utilized. As a result, with the pay-as-you-go business model Databricks has become a significant participant in the data management industry.
Databricks in businesses:
To expedite ETL:

 Allow your teams to immediately query the data using a "simple-to-use" interface without the need for time-consuming ETL (Extract, Transform, Load) / ELT (Extract, Load, Transform) or Data Warehouse / Data Lake operations. Make your data stores available to everyone in the organization. The virtual analytics platform democratizes data access and improves cost control. By simply scaling up the computing resource in a brief burst, Databricks allows you to get the resources needed to analyze your data.

Data science scrum:

 Databricks also offers an integrated workspace that promotes teamwork through a multi-user environment, enabling your team to create innovative Spark-based machine learning and streaming applications. You may simply use any of Spark's libraries to process data, train and fine-tune machine learning models, and produce dashboards and interactive reports through an interactive notebook environment. The integrated workspace makes the workflow simpler for developers and data scientists to replicate analysis.
Final thoughts:
To fuel AI-powered solutions Big data requires a home, and Databricks appears to be one of the top choices for this extremely lucrative segment of the cloud-based software market. By providing cloud-based data engineering tools to process massive volumes of data, Databricks assists Big Data professionals. In addition to multi-user support, an interactive user interface, security, data management, cluster sharing, and job scheduling, Databricks is a higher-level platform. The Databricks stand distinctive due to these characteristics. Many businesses are using Databricks to boost machine learning, ETL procedures and improve the capability of businesses to use the collected data.
In reality, there are countless applications for Databricks. To meet enterprise security needs, MSRcosmos makes sure the implementation is secure from a platform and data standpoint. We will work with you to put a machine-learning production governance framework. We ensure you that ROI on your use cases will always be growing.