Cloud migration has become a common undertaking for organisations of all shapes and sizes today. With cloud services becoming widespread, easily available and more effective, it's hard not to see why.
But what is cloud migration? Simply put, it is the process of relocating all digital assets that a company owns from a data center to the cloud, akin to physically moving assets from one place to another, except here it happens digitally.
As with any relocation process, cloud migration cost can be hard to estimate. Worry not, experts at MSRcosmos can help you demystify the costs behind cloud migration and help you understand the factors that should be kept in mind before you begin your journey to the cloud.
So, let us see some of the below listed cost elements which could help you estimate overall cloud migration
Human Resource Costs

Cloud migration is an elaborate process that needs highly differentiated skill set. DIY is definitely not a good idea as it can have disastrous consequences. Therefore, your first and foremost investment should be in a rock-solid team. An expert cloud architect and professional development team that can manoeuvre every step of the implementation with relative ease and lower risks is the perfect way to kickstart your migration.

Infrastructure Costs

The infrastructure has to be created by DevOps expert(s) depending on the scale and complexity. Less complex infrastructures can be handled by a single professional, however larger infrastructures may require a team. DevOps teams comprise of development engineers who are experts at creating codes to generate the resources needed for the cloud. Essentially this team writes applications that will adapt and sustain your systems in the cloud.

Cloud Platform Costs

These costs can be easily pre-determined as all cloud platforms have a consistent pricing system that can be easily worked out by data experts. Do keep in mind that the choice of the cloud should not be influenced by what's trending, but the organisational requirements, all cloud platforms offer different sets of services and you may be well suited for one more than the other.

Data Transfer Costs

Data transfer is the key element. Not just the size of the data but, what data goes where? what is the purpose of each set of data? which data is reserve and which will be helping you run your mission critical applications etc? … will determine the cost of the transfer. As per your needs your team may suggest usage of SSD cloud storage or HDD Cloud storage. SSDs is premium cloud storage that comes with its own set of advantages that may help your data perform better in certain environments depending on the usage.

Post-migration costs

Although cloud does offer you a great level of automation and autonomy, like with every machinery, maintenance and development is essential for a longevity and sustainability. Post-migration, some of the expenses that you may factor into your budget include remunerations to the provider for usage of cloud space, maintenance, assistance in terms of functionality and form.

Hidden Costs

Don't go by the name and feel intimidated or worse scammed. Hidden costs are nothing but costs that are variable or tentative owing to the intricacy of the migration process. Together with the cost of the migration these expenses must also be taken into account while planning the migration process.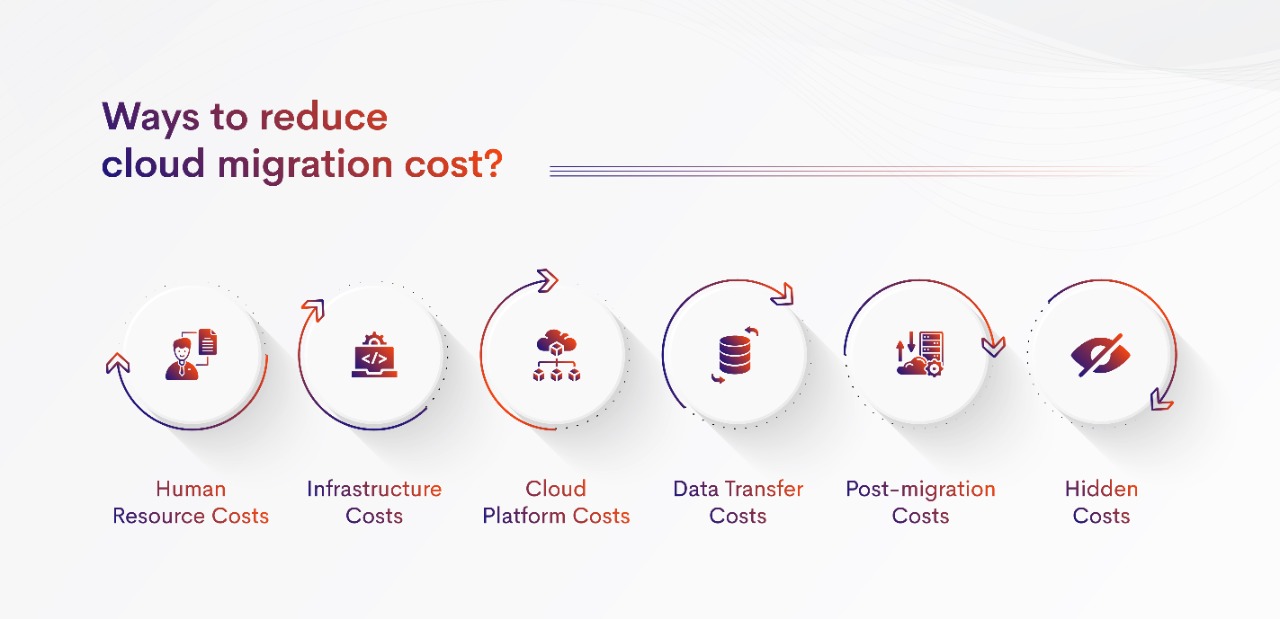 Time is money. Conditional to the programming language or database used, Applications may be required to be rewritten to function as cloud native. One of the major expenditures to take into account here is assessing the amount of time the developers need to rewrite the application. An extensive rewrite will obviously lead to a greater cost. This may last from a month to a year, it is also heavily dependent on the expertise of the team you hire, a finely experienced team will help you manage your hidden cost better.
Size of your data is the ultimate factor. Assessing the data is a major part of the pre-migration phase that must not be overlooked as this may cause your budget to go absolutely haywire. Apart from this knowing what you would prefer to be in cold or in hot storage helps in estimation too. To know more refer to this blog about ——
How to reduce cloud migration cost? This is a question that often pops up, and rightly so. A well-defined budget is a great place to begin with. The honest truth is, there are and should be no shortcuts in the cloud migration process. Cutting corners or compromising with the process can be detrimental in the long run and end up costing you time, money and even your data.
However, a good option to keep your migration costs from going out of the way is to hire an excellent team that can help you plan efficiently, manage timelines, achieve milestones at the right time, operate with transparency keeping the client in loop and help with basic training of employees if required.
The safest way to migrate to the cloud is to do things the right way and to come up with a cloud migration strategy to safeguard your assets in their new cloud. MSRcosmos can help you with your journey to the cloud with end-to-end implementations. With more that a hundred implementations under our belt and trusted partnerships with all major cloud hyperscalers, we have all the resources you need to have a smooth and well-timed migration. What more, we can help you arrive at an estimate free of cost, even before you start, by simply answering few of our questions. So, what are you waiting for? Get in touch with us today, and help us help you make your cloud dreams come true.