Businesses use cloud services more frequently to manage their databases. However, cloud infrastructure downtime can seriously harm enterprises. They might be unable to work at that time, which would cost them highly. This shortcoming is because of inadequate cloud capacity, inefficient resource allocation, or hardware-related technical issues.
FinOps can assist businesses in effectively allocating their budgets and wise spending on a cloud. The adoption of FinOps has led engineers, finance teams, and business leaders through their current diverse, dynamic, and difficult roads toward development and progress. There are several FinOps concepts; there is no one way to proceed. It is a journey with numerous interwoven ones. While no two firms' FinOps journeys are the same, all roads are directed toward creating a scalable, thriving FinOps culture and practice.
Let's understand why FinOps is gaining importance
What is FinOps?
"FinOps is a public cloud management discipline that enables organizations to get maximum business value from the cloud by helping technology, finance, and business teams to collaborate on data-driven spending decisions."-J. R. Storment, executive director, FinOps Foundation
Simply, we can say FinOps is a cultural practice and a way for teams to control their cloud expenses in which each team member is responsible for managing its use of the cloud with the help of a central best practices group. Cross-functional teams in engineering, finance, product management, and other areas collaborate to enable quicker product delivery while gaining more control and predictability over finances.
Future Financial Operations on the Cloud with FinOps
The existing trends of wider acceptance and rising complexity continue with cloud computing. So, in the upcoming years, cloud computing will be driven by these four themes, according to Gartner:


Regional cloud ecosystems:

The fragmentation of geopolitical regulation is getting substandard. Cloud providers have been driven to create distinct regional and vertical cloud ecosystems as a result of dealing with protectionism and industry compliance.

Sustainability:

Gartner said new sustainability standards will be required over the coming years, and choosing a cloud services provider may depend on the provider's "green" ambitions.

Programmable cloud infrastructure:

According to Gartner, CSPs will increasingly employ fully managed cloud platforms and AI-enabled services.

Cloud ubiquity:

Upcoming wireless communications advancements like 5G R16 and R17 will drive cloud adoption in a greater direction of broader, deeper, and ubiquitous usage. Gartner said till 2026, public cloud investment will account for more than 45% of all enterprise IT spending, up from less than 17% in 2021.
These developments stress cloud financial operations and highlight the urgent need for a thorough FinOps strategy.
A carefully analyzed trade-off between speed, quality, and cloud cost management can help break down the functional barriers between the various teams. Accept FinOps framework having the iterative 3 steps in its framework (informed, optimize, and operate). It will surely become a catalyst in a business process. Depending on the business unit and applications, a company may be in several different cycle phases at once.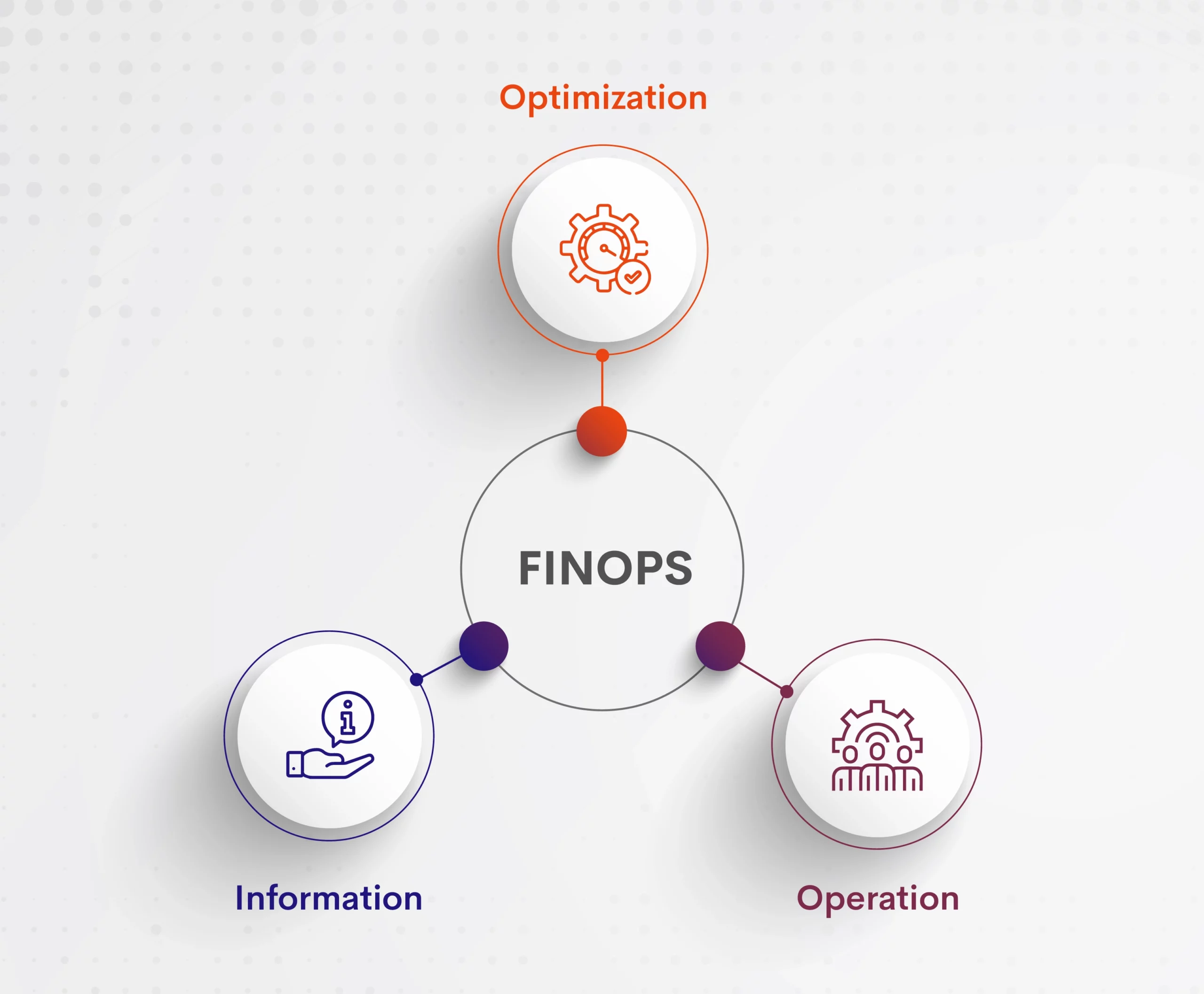 Inform:

Better visibility, allocation, benchmarking, budgeting, and forecasting are all goals of the first stage of the FinOps lifecycle for business organizations. Due to the personalized pricing, discounts, and elastic and on-demand nature of the cloud, proper and timely visibility of the cloud is essential for making informed decisions.

Optimize:

Organizations and teams must optimize their cloud footprint after being given more power. There are several levers to optimize with cloud providers. The most expensive kind of capacity is on-demand. Cloud providers offer discounts for commitments, which generally require complicated calculations for making reservations (Reserved Instances (RI) / Committed Use Discounts), in order to encourage advanced reservation planning and increasing commitment. Teams and organizations can also improve the environment by automating the right sizing of resources and turning off any unnecessary resource use.

Operate:

Businesses today must constantly evaluate performance measures to see whether they are heading toward their objectives. They can do this by measuring the efficiency and cost-effectiveness of their cloud resources, meanwhile ensuring they adhere to established governance and cloud usage limits.
FinOps is a cross-team effort that isn't just for one line of business. Cloud FinOps entails responding to real-time demand and matching it with the best cloud solution available, whether it is infrastructure or service. When businesses face a wide range of cloud cost challenges, there are a number of critical financial operations issues that a centralized FinOps team, processes, and cloud technologies must address.


Cost visibility:

If you depend on many cloud providers since this may complicate things. Keep an eye on resource usage rates for cost visibility.

Optimization:

Eliminating irrational cloud expenses brought on by overprovisioning or underutilizing resources.

Management:

Taking management of resource use, prevent racking up unnecessary costs by removing barriers.

Automation:

Applying automation to assist with various cloud procedures or to notify users when they violate policies.

Accountability:

Using framework, tools, and process power to identify shared cost accountability.
At glance:
Businesses struggle with cloud computing implementation and face failure to use them. Many businesses are adopting a multi-cloud strategy, and they have trouble controlling the cost and return on their cloud investments. Lack of proper collaboration and planning generates serious issues while using the cloud. It is a delicate resource that businesses can exploit. If implemented smartly then it can produce amazing outcomes. We can not undervalue the importance of using the cloud.
Considering the current growth pattern, it is best for all businesses using or planning to use the cloud to familiarise themselves with best practices for FinOps as well as the people, procedures, and pertinent tools involved in significantly easing and expediting this transition. Adopting a clear FinOps strategy enables businesses to maximize their ROI while improving their operational and financial control. The rise of the FinOps field has made it necessary for businesses to completely rethink how departments share data and work together to control runaway expenses.