Cost containment and profitability are always among the top priorities for any organization. This is where initiatives around SAP application management support (SAP AMS) services come into existence. Challenges arising out of rising costs, lack of internal talent skillsets, expertise to handle ongoing sap functional and technical issues, proactive resolutions and continuously enhancing SAP application lifecycle calls for best of breed approaches and methods.
SAP application management support services (AMS) – An insider
SAP Application Management services are available for support, continual improvement, and optimization of SAP solution-based landscapes. AMS is a solution that assists a company in managing, optimizing, and expanding its application landscape. During 2022 to 2028, the global Application Management Services (AMS) market is expected to grow at a 15.8% CAGR, worth USD 18370 million in 2021 to USD 52020 million in 2028.
SAP Application Management Services are arranged in a variety of ways for each company; corporations can contract with a service provider or hire an in-house staff. SAP AMS can help you expand or upgrade your capabilities as needed, without the requirement to hire and educate personnel who could or might not be essential in the future. That factor is expected to drive the adoption of SAP AMS services, thereby driving the AMS growth. 
When it comes to SAP AMS customers by industry, the most popular sectors are computer software (18%), information technology and services (18%), and automotive (5%).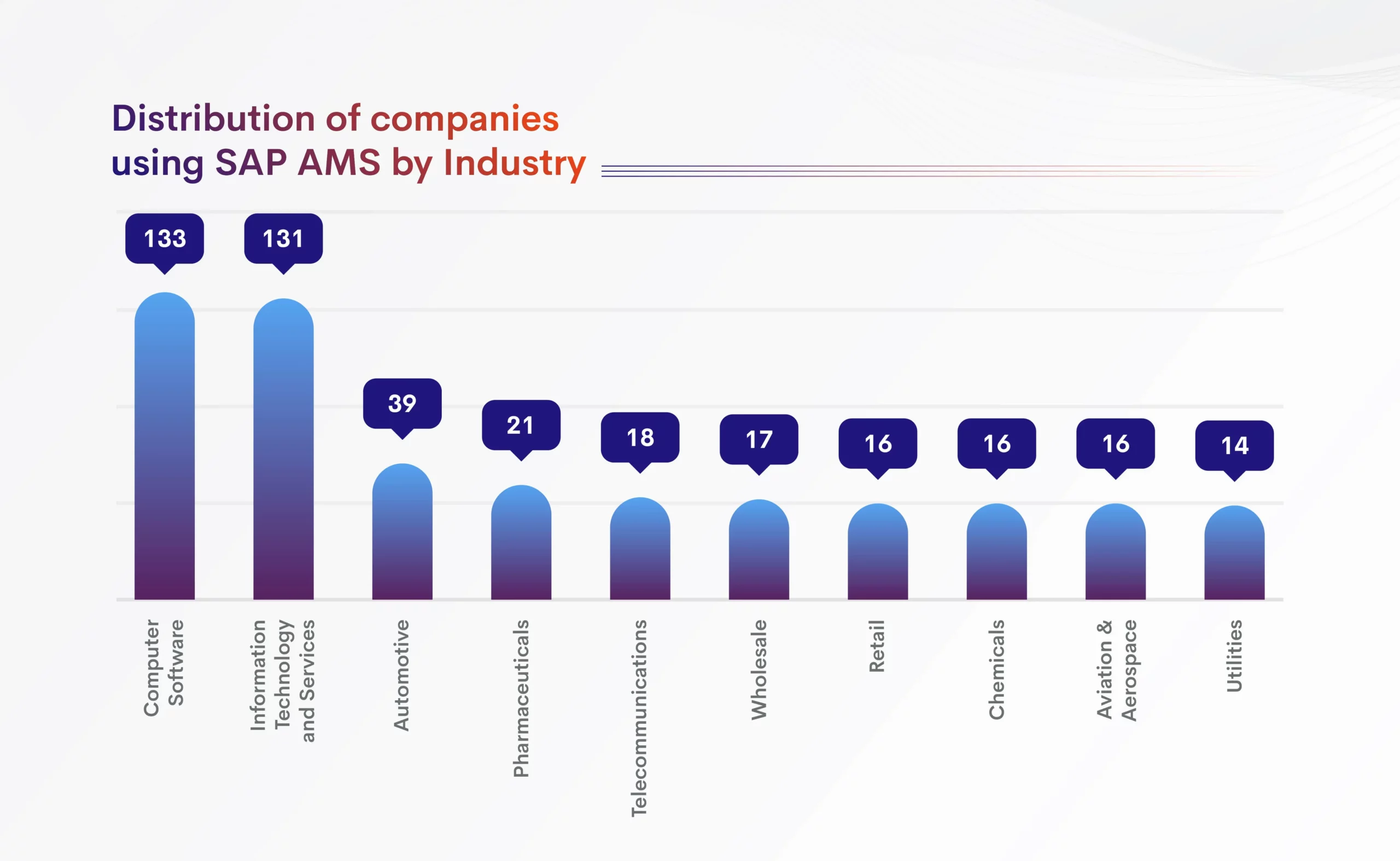 AMS for SAP support offers premium solutions to assist IT teams in generating value propositions and resolving issues. Two out of every three IT expenditures are now spent on sustaining existing technology. As a result, IT administrators are being forced to control expenses, decrease risk, improve returns, and respond to the business's ever-changing needs all at the same time. Furthermore, the services provided must be of the greatest quality; otherwise, cost reductions would not be accomplished.
Why rely on an SAP AMS service provider?
The right SAP Application Management Services (AMS) consultant can help you streamline and optimize your SAP environment with industry leading best practices. Through SAP AMS service provider like MSRcosmos, companies can gain operational efficiencies while freeing up existing IT staff to focus on the innovations that are truly important. We have listed below a few advantages of having a profound SAP AMS provider
SAP application management service providers offer specialized knowledge and a strategic viewpoint for enhancing the SAP lifecycle to boost business agility, improve productivity, and avoid downtime.
In today's fast-paced market, firms must move quickly and in real-time, which necessitates the adoption of mobility and accessibility. A seasoned SAP AMS partner can help you transform your organization with innovative and flexible mobile applications and solutions that secure enterprise data, improve business processes and decision making, and better satisfy shifting needs.
An unanticipated change can have disastrous consequences in today's extremely complex business contexts. Organizations use energy and resources that are supposed to be used to produce business value to manage business-critical systems in order to minimize such disruptions. A highly experienced SAP AMS partner knows the problems of changing management and can help enterprises to strike the appropriate balance between adopting new ideas and keeping day-to-day operations running smoothly.
Increasing client satisfaction: Highly effective SAP Application Management Services provide significant insights into customer requirements and issues, allowing customer service teams to better communicate with clients and improve the entire experience.
Repetitive, redundant processes can be automated with the help of an SAP AMS partner. AMS partners can use automation to design, manage, schedule, and monitor intelligent bots that support scalable business operations, reducing human error and allowing continual improvement.
Connect with MSRcosmos for SAP AMS
MSRcomos is a master in SAP application services. Organizations rely on our decade-old SAP expertise for transforming and innovating their business. We offer modern AMS approaches and methods for optimizing SAP application portfolio.
The range of MSRCosmos' SAP AMS services
Our end-to-end SAP AMS portfolio include SAP Managed services, SAP ERP, SAP BI, SAP functional and technical support, SAP BASIS administration, SAP Cloud technologies and more
We provide services for maintaining, managing, and enhancing SAP applications in accordance with established objectives and service level agreements (SLAs).
Our global delivery offers right shoring strategy allowing customers to take advantage of onsite, nearshore, and, offshore delivery models.
Get geography-wise coverage – 24*7, business hours support, need-based-support
Indepth expertise in improving IT Processes, System Utilization and Solution Effectiveness
Flexible engagement models for rapid time to value
Bottom-line Benefits:
Cost savings up to 30% to 40%
The incident SLA increases from 90% to 98 percent.
Continuous improvement measures resulting in a reduction in ticket volume
By eliminating technological debt, we are able to improve system response time.
Improved Service Delivery KPIs, reporting, and SLA
Reduced crisis scenarios
Continuous improvements in business processes and value add for operational excellence and YoY cost reduction.
So, why wait? Start using smart, efficient approaches to optimize and get greater value from SAP application portfolios.