Business apps are becoming more popular as a result of accelerated digital transformation needs. In order to satisfy this need, you require solutions that are easy to deploy and manage. Additionally, our perception of technology is changing dramatically. The acceptance of low or no-code  development has greatly benefited from this. A more modern approach to this undertaking may be to invest in low-code platforms. By 2024, "more than 65% of application development activity will be driven by low-code application development," predicts Gartner.
By connecting to a cloud-based data source or an on-premises data source, Microsoft's low-code development platform enables programmers, business users, and CRM administrators to build unique native mobile and online applications. Businesses may streamline operations, continuously innovate, and maintain agility with the help of Microsoft. Today, power platform development is recognized as a way to create original yet uncomplicated commercial solutions that support data visualization and automate corporate procedures.
This blog dwells into the fundamentals of Microsoft Power Platform and what are its key components to transform your enterprise.
What is a Power platform?
Microsoft Power Platform is a collection of distinct solutions that can eliminate complex business processes, analyze and visualize data, automate business processes, or create virtual agents for communication. All Power platforms create a simplified workspace that enables developers to create applications without writing code. The graphical user interface of Microsoft Power Platform is simple to use. With the help of the Microsoft Power Platform, customers may create business apps, automate tedious tasks, and do data analysis. It helps to gather information and provide analytical insights for the advancement of businesses.
The Microsoft Power Platform consists of the following four platforms :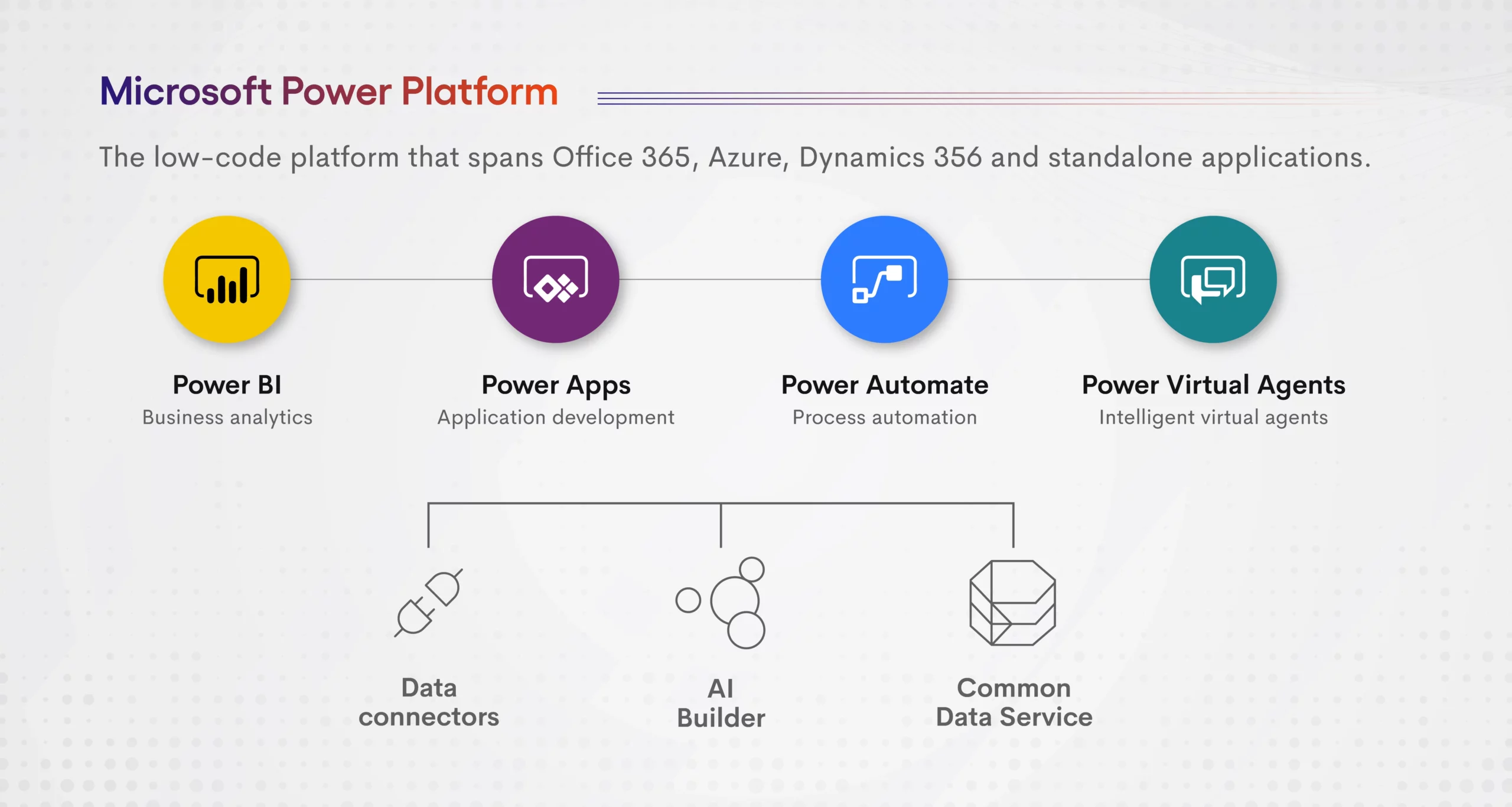 Key Components of Microsoft Platform
Power BI: The human brain processes an image 60,000 times quicker than a word. The information is already there, but data visualization makes it better and presents it visually. The key to becoming nimble, competitive, and effective is business intelligence. Challenges are increasing to manage the regular flow of data generated as firms expand. It consequently becomes a barrier for data-driven businesses while using their data for strategic business decisions. Power BI quickly scans the data to identify the most important insights and present them in striking visual ways. Simply, we can say that users can
Modify and model the data.
Generate graphs and charts.
Create dashboards and reports with visual collections.
Making use of the Power BI service share reports with others.
Microsoft positioned as a Leader in the 2022 Gartner Magic Quadrant for Analytics and Business Intelligence Platforms for a record-breaking 15 years. Microsoft increases the usability of Power BI's premium features for workgroups within large enterprises and small-medium-sized firms. As it is a cloud-based program, thus there are no up-front expenses or infrastructure requirements.
Power automate:
Power Automate enables businesses to exploit quick-paced digital solutions while confidently scaling throughout the entire enterprise. Power Automate offers the next generation of digital automation, used by both coders and non-coders, whether it be for straightforward jobs or extremely complicated enterprise-wide operations. Anyone may utilize intelligent apps to speed up their business, quickly build low-code apps, and transform concepts into productive solutions.
The benefits of Power Automate can first seem inconsequential, but they will ultimately save a lot of time for your workforce. The more automation you use, the more time your business will save. It enables businesspeople to focus on initiatives that will produce revenue rather than becoming bogged down in tedious manual work.
Power app:
Power app is a platform that empowers you to create your apps while fostering your creativity. If a brilliant idea strikes, PowerApps can provide the opportunity to access anywhere from a mobile device or remotely via the web. Data from other sources, such as Excel, SharePoint, and others, can be used for it. The advantages of Power Apps include the capability to create apps without prior coding knowledge. Power Apps promote agility throughout your organization and provide the advantages outlined below.
Utilize data transmission and integration to expedite work.
Improve creativity and mobility with the no-code capability
Boost productivity with ready-made AI scenarios.
Leverage data more effectively
According to Total Economic ImpactTM research commissioned by Forrester Consulting, users of Microsoft Power Apps saw 188% ROI in three years, a 74% decrease in app development costs, and an average increase in productivity of 3.2 hours per week.
Power virtual assistance:
A well-designed chatbot can get power for influencing a company's brand image, helping to draw in and hold on to the ideal customer base for your product and keep employees engaged and motivated throughout their time working for your firm. With Power Virtual Agents, you can build robust chatbots with AI that can handle a variety of tasks, from answering basic questions to having in-depth talks about complicated problems. Engage with clients and staff in a variety of languages via Facebook, Microsoft Teams, mobile apps, websites, and other channels supported by the Azure Bot Framework.
In Nutshell
Without the aid of any potent technology, it is challenging for organizations to visualize data. A platform that can effectively address every complicated problem that modern businesses and enterprises are currently suffering is desperately needed. With the aid of cutting-edge technology, we can completely embrace it to enhance our operations.
Microsoft Power Platform democratizes and integrates your data. It offers an approach to technical and non-technical people to evaluate data, take action on recently discovered insights, deliver personalization, and automate business procedures.
The Microsoft ecosystem allows you to implement end-to-end capabilities that operate harmoniously together, streamlining routine business operations and tasks. Analyze, Act, Automate, and Iterate are all the key components of Power BI, PowerApps, Power Automate, and Power Virtual Agents.
In the end, you presumably already have access to Power Platform licenses if your company employs Microsoft products. Businesses raising on these four pillars will surely, touch the height of success in less time. So, it's time to interpret your ideas and enhance data-processing techniques.
As a Microsoft solutions partner, MSRcosmos can help you extract the full power of Power platforms to innovate your business. We are helping companies in speeding their digital transformation initiatives through solutions that harness the capabilities of Power platforms. Connect with our experts to learn more.