In recent years, consumer demand has altered. They want to keep a check on their shipments and anticipate timely deliveries. They also demand a high-quality product, so producers must take extreme  precautions to guarantee that goods meet both customer and legal requirements. Modern Enterprise Resource Planning (ERP) systems have the power to dramatically transform a business, such as managing work remotely for staff, and monitoring departmental activities and resources. By transitioning from outmoded on-premises ERP to modern ERP, businesses can benefit from a number of opportunities.
In order to unlock the automation, integration, and intelligence required to run modern business operations effectively, Modern ERP systems ties everything together and enables data to flow across a factory. Therefore, it is preferable to concentrate on how modern ERP solutions utilize technological breakthroughs rather than lamenting the shortcomings of present methods.
What is Morden ERP?
AI, machine learning, and advanced analytics are integrated into Modern ERP systems, which alter business operations and processes with intelligent automation. The organization may become fully data-driven because of real-time processing and a much-simplified data model. These technologies are incorporated by a modern ERP system, making it simpler to manage change and spur growth.
Features of Modern ERP System
When businesses consider switching from legacy ERP systems to Modern ERP systems, then it allows them effectively respond to business requirements and tackle significant organizational difficulties. Now, we should understand important ERP aspects of why this updation is essential. Here are a few features of Modern ERP systems that ease your business processes.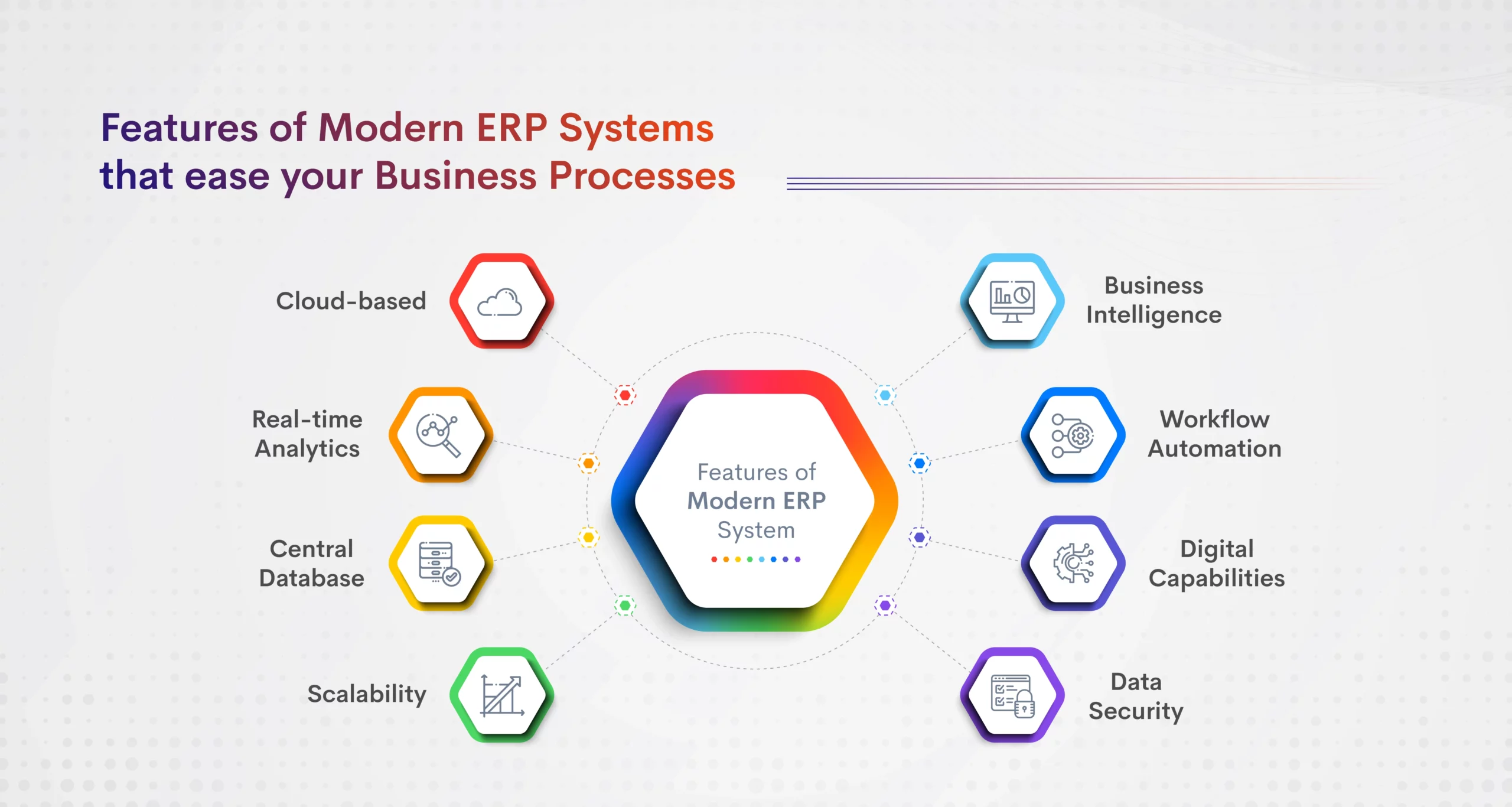 Cloud-based:

On-prem ERP systems installed have a track record of expensive implementations and delays. Cloud-based ERP solutions are more responsive, adaptable, and simple to implement. On-premises deployments can take up to twelve months, while the average cloud ERP setup typically takes three to six months. This benefit is crucial for small firms, who frequently lack the time and resources necessary for an effective on-premises ERP deployment.

Real-time analytics:

This is perhaps the need of the hour for every enterprise looking to outperform. Therefore, access to real-time statistics tailored for a specific job within the ERP dashboard is essential for making strategic decisions and streamlining operations. It can result in higher efficiency, lower costs, and happier customers.

Central database:

Morden ERP system can compile and store data throughout the organization in a unified database. All relevant data entered into the system from the whole firm is stored in an ERP's central database. Through a centralized database, one can access information from any location, at any time, and on any device, improving the responsiveness and efficiency of the business and its workforce. It will provide a seamless, error-free flow of information among staff members and departments.

Scalability:

Scalability is the capacity of a software system to increase or decrease IT resources in response to shifting user needs. One of the most crucial features of the modern ERP, and the main reason for its enormous global appearance, is scalability. As cloud pricing options don't require you to purchase hardware or software licenses, it's simple to add resources as your business expands. if times are tough, you can simply, reduce your monthly charge.

Business intelligence:

Beyond transforming data into visual insights that guide decision-making across the enterprise, BI improves ERP systems in a number of other ways. Insights into past performance are provided by historical ERP data, while predictive analysis and modeling are made possible by BI. It gives businesses a complete picture of their past, present, and potential future.

Workflow Automation:

Workflow management consists of a number of tasks and actions that generate data. Modern ERP software offers workflow management for manufacturing, inventory, CRM, accounting, quality, project management, sales and procurement, planning, etc. Depending on the demands, these processes can be changed and added to the ERP. Automation enables exact planning, management, and execution of all business activities. It will be simpler to integrate recent and emerging technology. Additionally, a weekly release schedule ensures that both existing performance gaps and future technology advancement can be quickly and consistently addressed.

Digital capabilities:

A modern ERP solution can enable digital features like e-commerce and mobile apps, to help you operate your business more successfully. Modern ERP systems are considered the best tool for businesses attempting to manage resources wisely. It can help managers reallocate human and financial resources or develop key business procedures that are more affordable without sacrificing performance or quality.

Data security:

Cybersecurity has become more important than ever in the digital age. Because the mishandling of personally identifiable information is a growing concern, there are a number of regulations and compliance requirements when handling customer and business-related data. An effective ERP system restricts employee access to specific activities and tasks. It uses role-based security to prevent access to confidential modules and functions. Role-based security mechanisms in an ERP system that secure and encrypt passwords are simple to develop and implement. Your modern ERP system goes above and beyond by managing the security of suppliers and third-party providers.
Wrapping up:
As a foundation for data and process integration, a modern ERP system supports all business processes. As a result, it establishes process consistency at all levels and guarantees a uniform database as a single source of truth. The ERP system makes all processes more effective by enhancing communication and interaction between departments, suppliers, and customers. It facilitates quick judgments at the C-level when used in conjunction with business intelligence technologies. ERP systems assist in projects by automating repetitive work and methodically mapping processes that provide value. Businesses adopting modern ERP leverage significant advantages like improved decision-making and accelerated corporate growth.