In today's rapidly changing and uncertain economic landscape, businesses face numerous challenges. However, harnessing the capabilities of artificial intelligence (AI) can enhance their ability to withstand economic uncertainties and position themselves for long-term success. With AI, businesses can build stronger resilience and remain competitive. Discover the transformative potential of AI in this blog article, as we delve into its role in risk mitigation, informed decision-making, operational optimization, and growth opportunities.
Key Roles of AI in Navigating Economic Uncertainty
AI offers several key roles to navigate economic uncertainty effectively. Here are some key ones: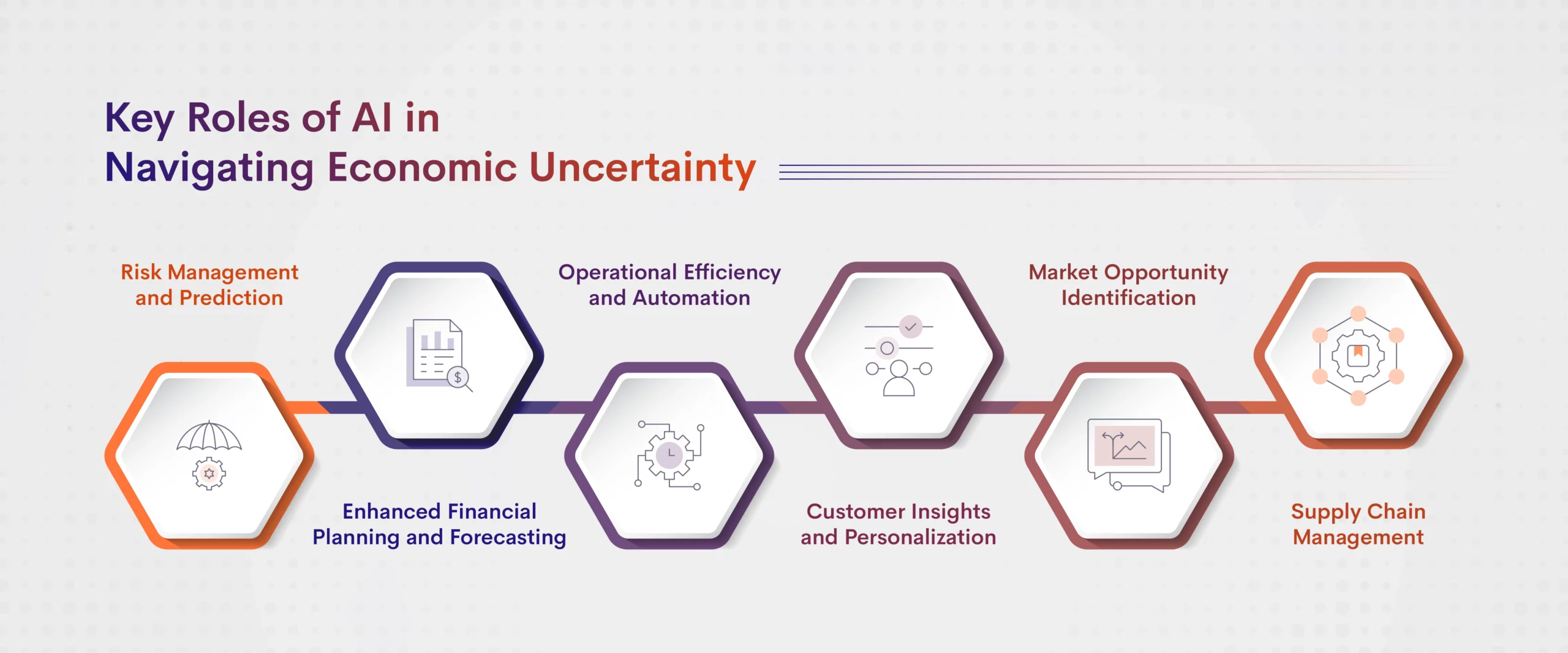 Risk Management and Prediction:
AI is an indispensable asset in risk management, as it excels at analyzing massive datasets, detecting patterns, and forecasting potential risks and market fluctuations. With AI-driven algorithms, businesses can evaluate market trends, customer behavior, and economic indicators, empowering them to proactively adapt to evolving conditions. By harnessing the power of predictive analytics and machine learning, organizations gain the ability to anticipate risks, optimize resource allocation, and make well-informed, data-driven decisions that effectively mitigate potential threats.
Enhanced Financial Planning and Forecasting:
AI-powered financial planning and forecasting models provide businesses with a more accurate and comprehensive view of their financial health. By analyzing historical data, market trends, and external factors, AI algorithms can generate more precise financial forecasts, enabling businesses to make proactive adjustments and plan for contingencies. This enhanced financial visibility empowers organizations to navigate economic uncertainties with greater confidence and make informed decisions regarding investments, budgeting, and resource allocation.
Operational Efficiency and Automation:
AI-driven automation can streamline operations, optimize processes, and reduce costs, thereby enhancing efficiency and resilience. Robotic Process Automation (RPA) and AI-powered systems can automate repetitive tasks, data analysis, and customer interactions, freeing up human resources to focus on strategic initiatives. By automating workflows, businesses can improve productivity, minimize errors, and adapt more swiftly to changing market demands, ultimately building resilience in the face of economic uncertainties.
Customer Insights and Personalization:
AI technologies enable businesses to gain deep customer insights and deliver personalized experiences even during economic uncertainty. By analyzing customer data, AI algorithms can uncover patterns, preferences, and behaviors, allowing businesses to tailor their offerings and marketing strategies accordingly. Personalization enhances customer satisfaction, builds loyalty, and helps businesses retain customers, even when economic conditions are challenging.
Market Opportunity Identification:
AI-driven analytics can identify market trends, consumer demands, and emerging opportunities, enabling businesses to pivot and capitalize on new avenues for growth. By analyzing large volumes of data from various sources, including social media, market trends, and competitor analysis, AI algorithms can provide valuable insights to inform business strategies and identify untapped market segments. This empowers organizations to adapt their offerings, diversify revenue streams, and remain agile in uncertain economic environments.
Supply Chain Management:
AI revolutionizes supply chain management by optimizing operations through demand forecasting, inventory management, and logistics enhancement. With AI-driven demand forecasting, inventory optimization, and supply chain analytics, businesses can ensure on-time deliveries, cost reduction, and effective disruption management. Leverage AI to streamline your supply chain, boost efficiency, and stay resilient in a dynamic business landscape.
Wrap-Up
In conclusion, AI emerges as a transformative force for businesses facing economic uncertainties. By harnessing the power of AI technologies such as predictive analytics, machine learning, and automation, organizations can gain valuable insights, optimize operations, and make informed decisions. From risk management to financial planning, customer personalization to supply chain optimization, AI provides the tools and capabilities to navigate challenges and capitalize on opportunities. Embracing AI empowers businesses to build resilience, adapt swiftly, and position themselves for long-term success in a rapidly evolving economic landscape. As businesses continue to face uncertainties, AI remains a steadfast ally, unlocking new possibilities and driving innovation across industries.