Automation is no longer a revolutionary idea. It is a necessity for survival in today's hyper digital world. Microsoft's  Power Automate solution enables businesses to automate user interfaces with RPA, unlock analog data with AI, and automate cloud apps and databases with built-in integrations.
This cloud-based workflow engine replaced Microsoft Flow. It can help automate work procedures or tasks across your desired services and apps. Workers can streamline operation by using related sources.
For example, businesses can automate some operations to do the following:
Receive real-time alerts on your mobile device.
Keep track of and catch up with new prospective clients and sales prospects.
Add copies of all your email accounts to your OneDrive Business account.
Emails having attachments can save to OneDrive or SharePoint.
Collect facts about your business and present them to your group.
Use social media to interact. For instance, a blog post can instantly be tweeted or published on Facebook.
Automate the procedures for approval
Microsoft power automate has been recognized as a Leader in the Gartner Magic Quadrant for Robotic Process Automation for the second year in a row.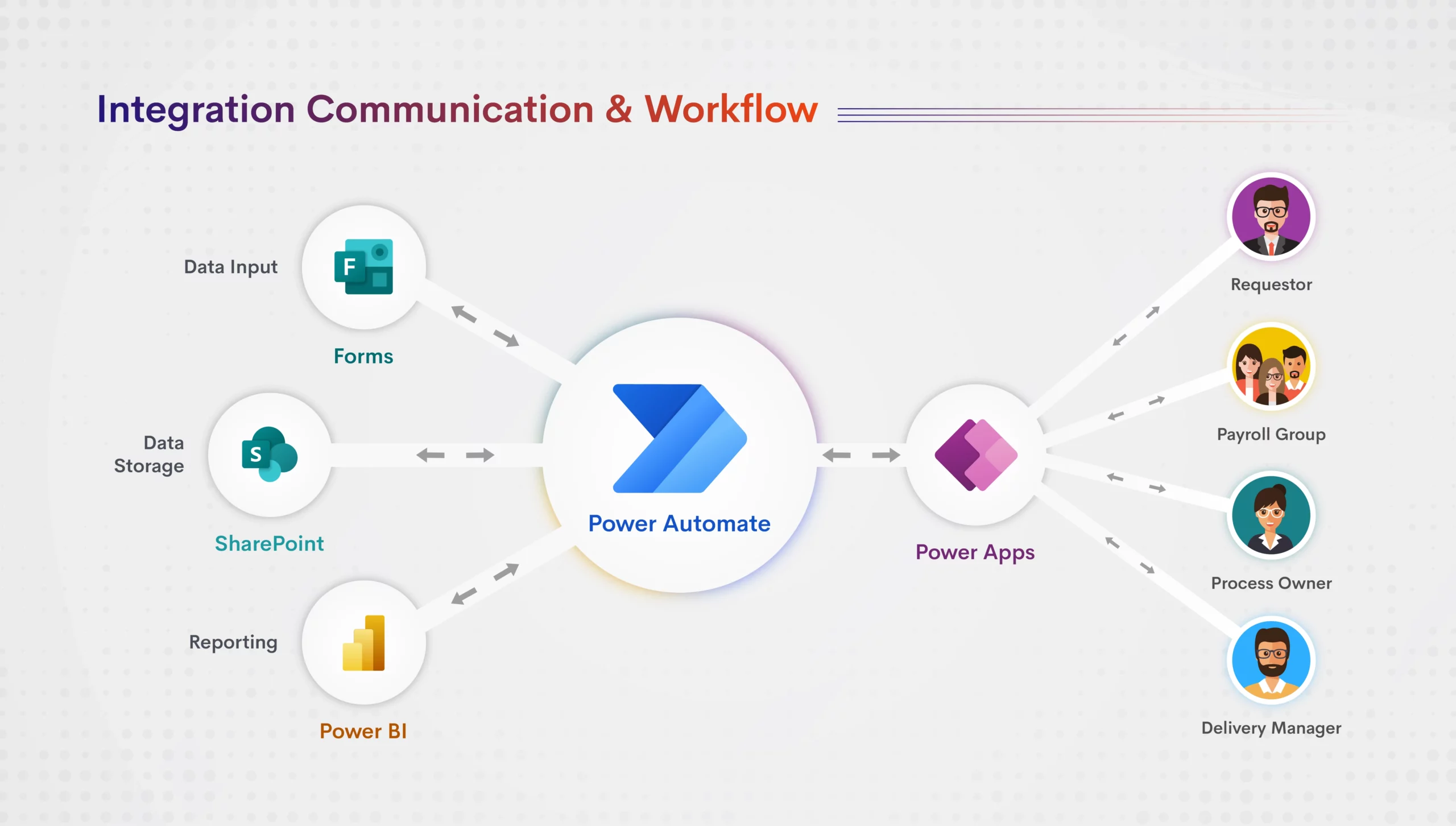 The biggest benefits of Power Automate
The benefits of Power Automate can first seem inconsequential, but they will ultimately save a lot of time for your workforce. The more automation you use, the more time your business will save. It enables businesspeople to focus on initiatives that will produce revenue rather than becoming bogged down in tedious manual work. Understand Power automate benefits before you embark on an automation journey. Here we have tried to list some of the many business benefits of Power automate.
For measurable business results

– The volume of emails you receive each day is vast, and reading all those mail will be impossible. A simple task will be easy if we get a notification when a high-priority email arrives. A template can be set up in Power Automate so that users receive just that, guaranteeing no more overlooking crucial emails. As a result, we may conclude that the company achieves better results by automating processes and concentrating efforts on information analysis, goal-setting, and team support.

Empower employees to ignite innovation

– Microsoft Power Platform can help your firm quickly create value and accelerate your business without a heavy investment. Without having to worry about programming or IT, Power Platform works with Microsoft Office 365 and Dynamics 365 to allow you effortlessly access, alter, automate, and analyze your data. Encourage innovation by empowering your business users to develop innovative workarounds.

Data-driven decision

– Power Automate is used to construct Dashboards or Apps that allow managers to make choices using real-time data visualizations. Multiple applications used in business processes can be automated to increase accuracy and decrease the probability of human errors.

Easy integration

– Power Automate is really simple to use, even if your company already utilizes Microsoft products like OneDrive, Dynamics 365, Office 365, or SharePoint. Power Automate can integrate with more than 250 programs, both inside and outside the Microsoft ecosystem. The simplicity of data movement to and from your applications is one advantage of this. Power automate is simple to set up automated workflows between different programs.

Mobile access for 24\7 monitoring

– Employees today need to be much more vigilant and prepared to deal with new challenges. If you adopt Power Automate, then you can get these features to your business. It enables you to keep an eye on your company's operations from home or on the go. Workflow can be created, executed, and monitored by team members from any location. Ultimately, Power Automate maintains your readiness and that of your company.
A few Power Automate use cases across industries:
Healthcare:

The Microsoft team can send text messages to the mobile phones of healthcare staff because of Power Automate's ability to connect the two platforms. The SharePoint site will immediately get all patient data from the forms, allowing it to serve as a standard platform for patient tracking. Patients can receive automatic appointment confirmations through SharePoint Online, and the receptionist can also get a notification. Additionally, the software handles all required documentation and stores data in the cloud, making it available from anywhere.

Banking and Finance:

In a heavily regulated industry like the BFSI, due diligence is an essential procedure that calls for several multi-stage clearances. The majority of banks frequently check each approval personally, which involves reviewing multiple Excel pages. By implementing a workflow in Power Automate, the approver can instantly examine the status or pre-established approval rules. When the contract reaches the approval stage, an approval request will create in accordance with these rules. The approvers are thereafter issued an automatic notification of their actions. Any modifications to the request will result in an update in the primary repository. Quick notification pop-up to the appropriate parties via the workflow.

Manufacturing industry:

In order to manage inventories, purchases, sales, and delivery in the manufacturing sector, process automation is now essential. Process automation was previously solely significant for production lines. By reducing associated costs and timeframes and improving workflow, quality, and response times, advanced Microsoft Power Platform capabilities can boost the productivity of manufacturing facilities. The more advanced process automation use cases include

Processing of business information and paperwork
Effective control of supplier communications
Order management and streamlining of the production process
Timely service for client's questions
Why power automate?
Power Automate indeed enables businesses to exploit quick-paced digital solutions while confidently scaling throughout the entire enterprise. Power Automate offers the next generation of digital automation, used by both coders and non-coders, whether it be for straightforward jobs or extremely complicated enterprise-wide operations. Any user may utilize intelligent apps to speed up their business, quickly build low-code apps, and transform concepts into useful solutions.
MSRcosmos being a Microsoft solutions partner, can help companies in unlocking the best of Power Automate and cultivate the culture of process excellence. Connect with our automation experts to get started.