Our way of life has evolved dramatically. Automation has revolutionized our existence and identity. The room for living in the analog world has faded away with digital invasion. When every domain is being disrupted by automation then why are our business processes aren't considering the same?
We all know that SAP is the bedrock for every successful business. When you automate SAP processes with Blueprism, it opens a new world of opportunities along the lines of operational efficiency, competitive advantages, cost containment, and process excellence. As a strong Blueprism partner, MSRcosmos helps companies extract the best of Blueprism to automate SAP applications.
Three primary challenges encountered during SAP automation
Robotic process automation (RPA) steals the limelight when you make a conversation around automation. RPA's unmatched potential and intriguing use cases often make headlines. However, the case is a bit different when it comes to SAP automation.
Here are a few below-listed challenges encountered in the world of SAP automation
Traditional mind blocks – Being a mission-critical application, SAP users tend to be extra cautious when it comes to process automation anchored via digital workers. As the number of transactions across the entire SAP landscape is relatively higher, their inhibition towards new-age automation technologies is always skeptical. Most users have often been used to a few traditional automation practices, which include custom batch processing, data migration tools, middleware, etc.
Heavy customization and rapid nature of changes in SAP systems – SAP applications are highly customizable. 90% of SAP customers take advantage of this fact and introduce new changes via customizations to continuously improve and innovate their business. These add up to the architectural complexities of the SAP system. At the same time, SAP introduces frequent patches to keep your systems regularly updated. As a result, automating SAP processes in such a scenario can always be tricky. These scenarios can put stress on automation stability and its peak performance to deliver the designed outcome. Alternatively, a proactive approach might be needed to maintain the automation portfolio in line with changes and updates introduced in your SAP system.
SAP GUI – Introducing automation in SAP GUI can be a tall task, as it is the most common and unique UI used by SAP customers. RPA tools face a stiff challenge while interacting with SAP GUI screen elements. In such scenarios, RPA tools need to rely on code to interact with SAP screens, leverage screen-scraping, rely on X-Y coordinates, etc. All of these situations would call for expert handling and maintenance for automation to work in the perfect order.
How does Blue Prism address the SAP Automation challenges?
Blue Prism operates with a no coding philosophy, this way the platform becomes quite easy to adapt among both technical and non-technical users. In the following ways, Blueprism addresses the above challenges.
Connecting SAP Scripting API with Blue Prism Interface – Automation capabilities can be easily managed via the SAP Scripting API, which was made available to SAP customers when the SAP R3 version was released. SAP Scripting API is built with a strong foundation layer to support any automation needs for SAP systems. Blue Prism built an interface to connect with SAP Scripting API to seamlessly support automation needs for SAP.  Using the Blue Prism interface, SAP automation can be readily established in a few clicks. Automation possibilities extended by Blue Prism support the SAP ECC system including S/4 HANA with zero coding, screen scraping, and more.
Pre-built Blue Prism Automation – Blue Prism launched a set of pre-built automation accelerators in 2020. In a test, more than 400+ most used SAP transaction codes were automated effortlessly. These accelerators provide a calm pathway for setting up automation in a much faster and hassle-free manner. Blue Prism Automation accelerators for SAP support interaction with required screens/fields, relevant data items, intelligent wait stages, and exception stages to support proper error handling. You also have the flexibility of adding any customization through SAP Identification mode. Developers can save up to 70% to 90% of their efforts in creating SAP automation.
Blue Prism – The perfect choice for SAP Automation
Because of its outcome-based pricing, studio capabilities, and industry momentum, Blue Prism was named a Leader in the IDC MarketScape for RPA Software 2021-2022 Vendor Assessment. Between 2022 and 2032, the international market for Blue Prism software is predicted to grow at a 35.7 percent CAGR, from USD 362 million to USD 7,688 million.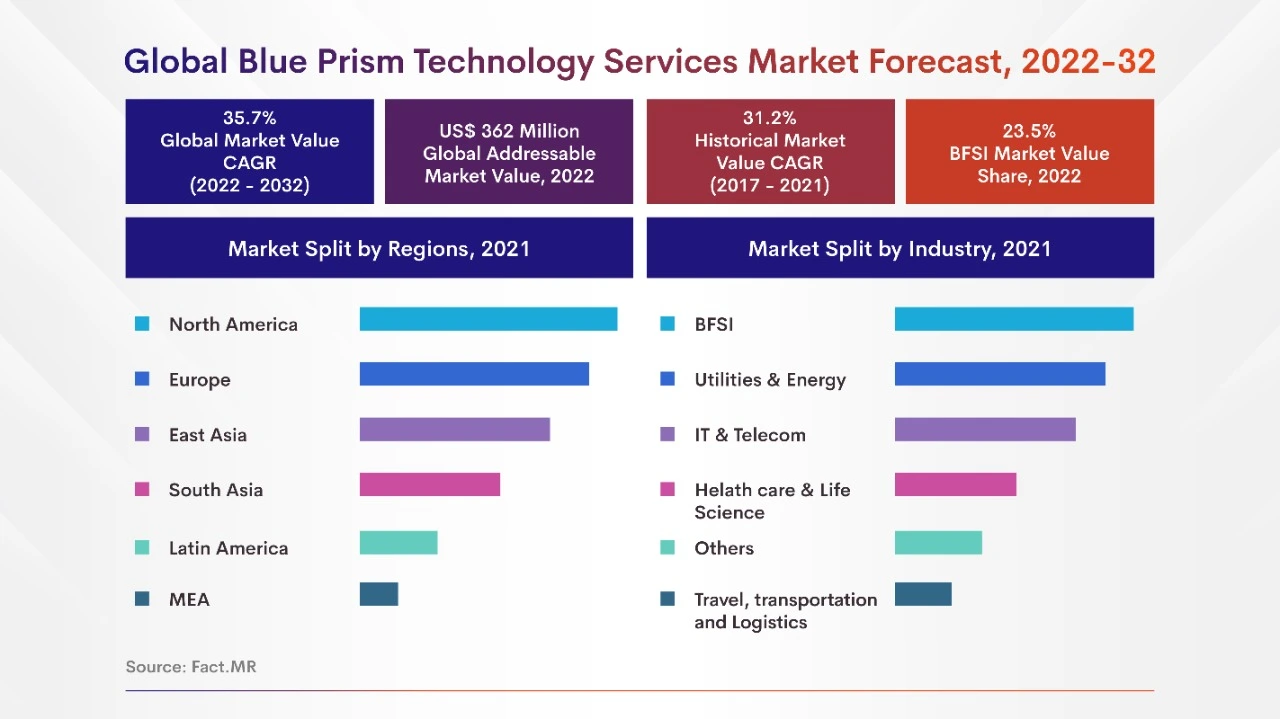 Blue Prism's identification mode for SAP® application allows for a no-code approach.
Simple to learn and use right out of the box for any Blue Prism developer, reducing the requirement for SAP® software subject matter specialists.
SAP® ERP Central Component (ECC), SAP S/4HANA®, and SAP® software migrations are all reusable.
No scripting or screen scraping is necessary to make this system resilient and stable.
Customization and upkeep are simple.
Since SAP automation in Blue Prism works on both an ECC and S/4HANA, no matter where you attempt your SAP automation journey, you can utilize your Blue Prism automation. Any SAP automation in Blue Prism created previously on an SAP ECC system might be simply repurposed for an SAP S/4HANA project with few tweaks. After migrating to S/4HANA, the SAP intelligent automation could be reused for day-to-day operations as well as future upgrade efforts.
Companies can maintain audibility between human and robot activities, prevent sensitive data from flashing across open monitors, and simplify development by designing around a single predictable desktop golden picture to provide each digital worker with their workstation. Companies also use digital workers, who may work 24 hours a day, 7 days a week, rotating between attended and unattended processes.
The benefit of SAP automation using Blue Prism
Less human effort – The biggest benefit of employing digital workers is that they return hours to the company, which can save a lot of time on a huge ERP system like SAP.
Enables focus on strategic priorities — Digital workers might be assigned to SAP's repetitive and tedious activities, freeing up SAP employees to focus on higher-value work as part of the organization's strategic priorities.
Faster execution with hassle-free scaling — Digital workers not only work faster, but they can also scale, allowing clients to use them to assist SAP employees with substantially more work. Digital workers can work around the clock and on weekends, allowing them to complete more work.
Quality of your SAP system – Because digital workers offer 100% accuracy with zero errors and rapid execution, the quality of the SAP system improves substantially.
Guaranteed cost savings – SAP automation using Blue Prism digital workers helps your reduce FTEs from repetitive mundane tasks thus enabling significant levels of cost savings.
Finishing up:
Customers can automate 99 percent of SAP tasks through SAP automation fostered via Blue Prism. In your control room, you can keep track of everything in one spot. Blue Prism can be used to automatically record all of a user's interactions so that critical process data and a process map can be generated. The discovery of SAP intelligent automation will be accelerated, and you will be able to deploy SAP automation more swiftly. Blue Prism is one of the simplest SAP automation choices because it has a proprietary interface that is intended to fit with the SAPGUI user interface and requires no scripting. Best practices may undoubtedly assist clients in designing automation that is durable, dependable, and easier to maintain, in addition to being simple to utilize.
We make it feasible since most firms feel that SAP automation is a business-elevating and business-transformative feature. However, the future offers great promise in the sphere of digital transformation, and MSRcosmos is on its way to delivering a promise of completing this SAP intelligent automation for you.