Digital transformation as a phenomenon has taken the professional eco-system by storm. Yet enterprises across the globe are rarely able to truly harness the power of digital transformation. In this blog we will explore the right way to approach digital transformation. Digital transformation is a journey rather than a destination that comes with its own sets of teething challenges and fruitful outcomes at every milestone. It is a dynamic vision that catalyzes every aspect of your business if implemented correctly.
As mentioned earlier, digital transformation is not a single process, but a dynamic journey with equally dynamic objectives subject to your enterprise, trade, and digital development. As you grow, so might your goals and landscapes.  Digital transformation applies differently for different sectors of the organization. Based on our work with some of the leading names in the industry around the world and our experience as pioneers of the technology industry, we endorse a simple framework that outlines the four important aspects of your digital transformation journey. Modernize IT, digitize operations, digital marketing, and digital businesses.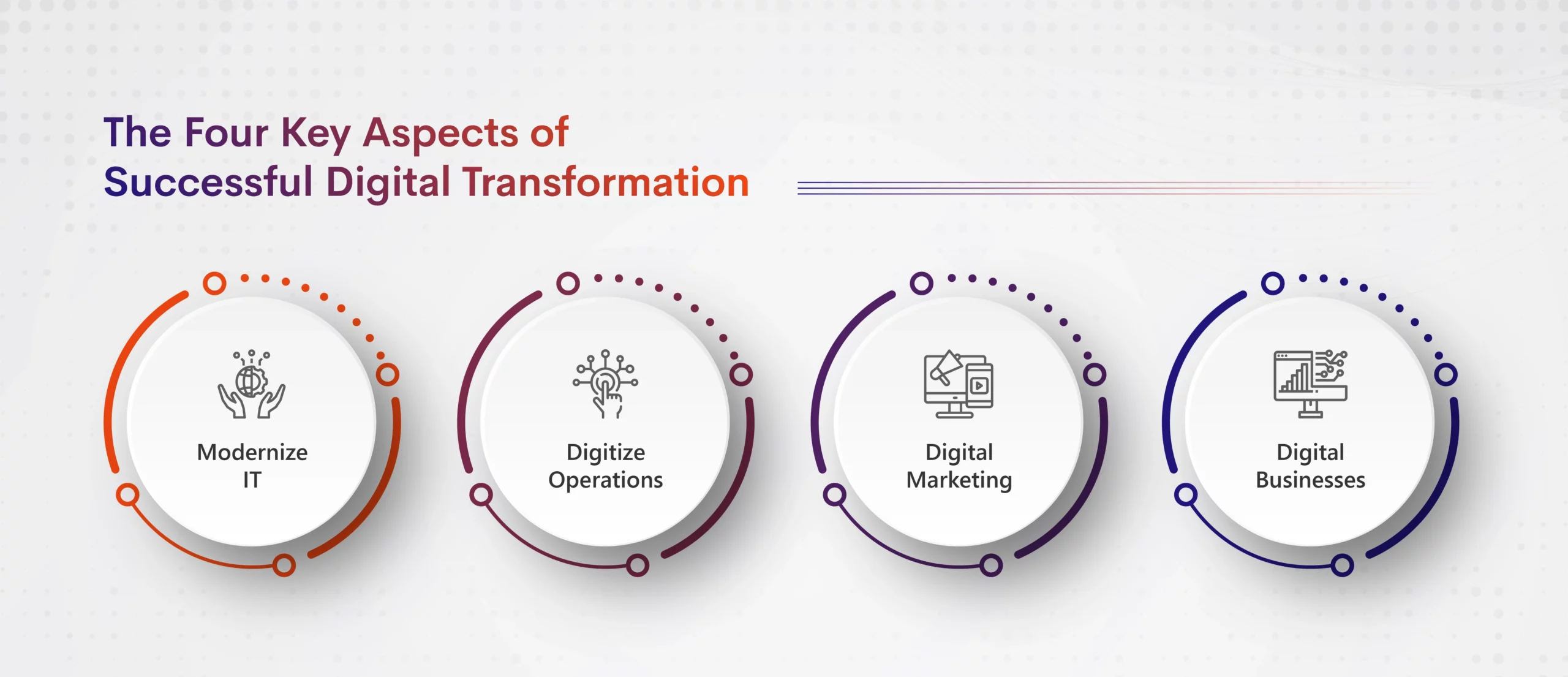 1. Modernize IT
Upgrading and enterprise's IT and mobile infrastructure, data lakes, and the cloud is a good place to start for most businesses. Principally, this is an opportunity to use budget allotted to modernize IT and communications platforms within your organization. When accomplished, an IT modernization empowers your company to use up-to-date tools that offer improved employee efficiency, decreased IT maintenance costs and increased employee satisfaction.
Many organizations struggle with how to go about Modernizing IT. This phase requires IT architects to develop the right plan for you, a custom-made solution that helps you update platforms with more effective tools to serve consumers at lower cost of maintenance. For larger enterprises we also suggest investment in advanced tools such as artificial intelligence (AI) and machine learning (ML), DevOps and Block Chain.
2. Digitize Operations
Another critical aspect of digital transformation, is digitizing your operations completely. Digitizing operations essentially refers to switching analog activities with digital. This has many benefits, for both the enterprise and the environment but most importantly, this helps the business providing central governance and reducing scope for manual or system error by updating itself evenly. Often undertaken earlier in the digital transformation journey, digitizing operations optimizes, simplifies, and rationalizes prevailing processes.
Digitizing operations may include re-architecting the system to meet the needs of today's consumers. Today, consumers mandate instant response or results. Digitizing operations is an essential aspect of digital transformation because in a landscape where we are already undergoing a digital revolution, first mover's advantage is short lived and one must make the most out of it. An enterprise may begin its digital transformation journey by digitizing processes and as it develops, re-architect processes entirely. For instance one might start with a simple chat bot for their website, service or app and as business grows, may opt for a more advanced AI fuelled bot that helps service customers better with nuanced results and responses.
3. Digital Marketing
In a time where most business transactions happen online, it is a no brainer that an organizations digital footprint is directly proportional to its sales. Digital marketing enhances your marketing strategy by building brand awareness, profile clients and sell better online as well as offline. This aspect focuses on digital tools as well as platforms to interact with and sell to customers.
From global conglomerates to individually run businesses, today everybody uses digital channels, AI and predictive analytics to access prospective customers, set up digital shops, and run geo-targeted campaigns. Organizations are now able to identify and act on critical consumer behaviors, predicting what one may need or want even before they realize it.
4. Digital Businesses
Getting on the digital bandwagon also opens up many new prospects for established as well as new companies. Grabbing these opportunities, some of which are truly disruptive in the best spirit, require both innovation and digital capabilities. Digital platform provides the opportunity for immense growth, new business models, products and services, or even new partnerships. Most industries have these opportunities at hand but seizing them necessitates a greater digital maturity than the other aspects we discussed earlier.
There are several other benefits to digital businesses such as lower cost of input, central governance, environment friendly operations with reduced paper and resource wastage. At the same time a professionally digitized business with intricate architecture can absolutely come into its own if developed and nourished by the right team.
The MSRcosmos Digital Transformation Journey
At MSRcosmos we can cater to your every need with a solution tailor-made for you. From modernizing your legacy IT, to building digital marketplaces, designing state of the art interface for customers to creating the right buzz for your enterprise, we are a one-stop shop for all your digital needs. We employ the latest tech and highly differentiated skill set to facilitate your business in the best way possible. With our staunch delivery commitments and passion , MSRcosmos has been able to serve multiple customers across the globe in their digital transformation journey.