Earlier, the development of software apps used to take months or even years. The project iterations required the involvement of the development teams, which was a labor-intensive procedure. Adopting digital tools alone does not constitute digital transformation. A genuine transformation provides businesses the strategic agility they need to successfully address their top business objectives, including customer experience (CX), operational effectiveness, business innovation, and employee productivity.
These days, it only takes a few hours to create such tools. Visual editing platforms for no-code development can handle everything without hassle or risk. One can implement it in your project with the required adjustments to meet the company's needs. Most drag-and-drop features in no-code tools are simple to use, making it simple for small business owners too. They can easily create applications.
Let us understand in depth how it will change the digital world. The market for low-code development technologies will increase by 20% in 2023 -Gartner, Inc.
What is low code/no code?
Using a platform or tool that enables developers to create software apps with little or no conventional coding is known as low-code development. These platforms offer a visual user interface and pre-made parts that are put together and customized to produce unique apps. Citizen engineers get access to user-friendly tools like drag-and-drop editors and interfaces, which enhance developer capabilities and boost productivity. Some low-code platforms might have capabilities like analytics and reporting tools, integration with other platforms or systems, project management, and teamwork tools that simplify business users' day-to-day tasks. From 2020 to 2027, the worldwide low-code application development platform can grow at a CAGR of 22.7%.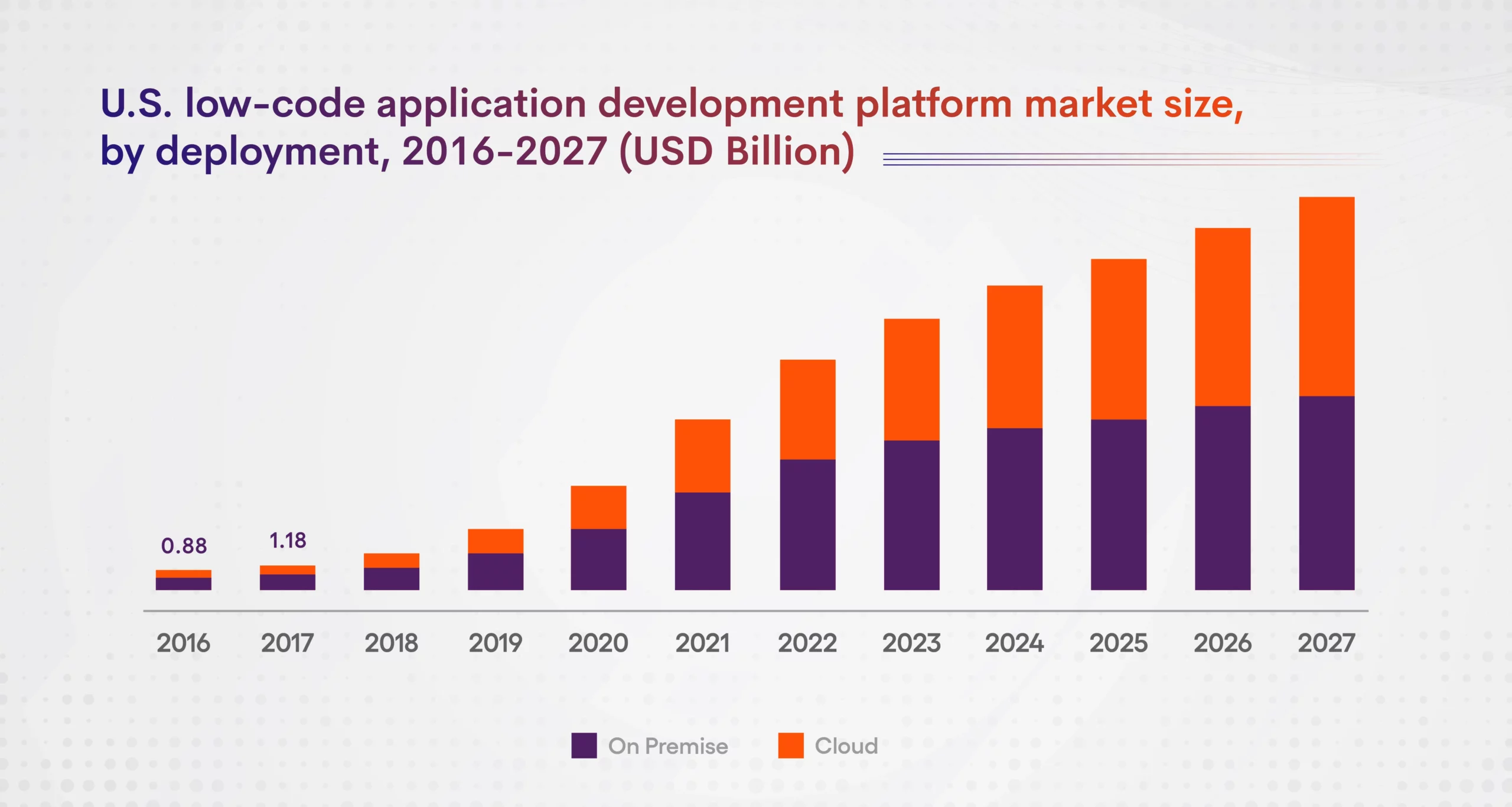 Top reasons for no code/low code development trend
Microservice development:

The creation of microservice applications is accelerated by low- or no-code systems. Your monolithic apps can be transformed into cutting-edge microservices with high-impact, low-risk functions using a variety of APIs. It doesn't need to involve the internal IT department; the relevant departments can handle it. As a result, application delivery delay is reduced to a great extent.

Easy Prototyping:

There is no point in starting a protracted development process to test the business idea. With low-code development tools, you can create an MVP to validate your concept, win over investors, or disprove it with the fewest possible losses.

Lesser maintenance:

The arduous plumbing work is abstract from daily development in a low-code platform, which lessens the burden of software upkeep. Bugs and integration problems are much easier to handle as more components are standardized, verified, and ready-made.

Accessibility to the non-technical audience:

A game-changer in the hyper-personalized world having the ability to quickly develop new solutions that act similarly across an omnichannel ecosystem. Low-code software systems accelerate the development of digital programs by making it possible for more non-technical people.
Benefits of low-code/no-code platforms

Increased Agility:

Agile workflows allow businesses to adapt to the changing requirements of their clients by segmenting projects into shorter segments known as sprints. Any modifications or corrections in the current sprint will be upgraded in the next sprint. Companies no longer have to depend solely on developers with specialized programming expertise, like writing lines of code, by integrating low-code platforms to increase operational agility. The tediousness associated with conventional day-to-day application development can be eliminated by abstracting the functionality into graphic components. Users instead leverage platforms, which allow them to create Agile processes using visual drag-and-drop tools, reusable components, and process modeling.

More flexibility:

When it comes to creating apps, no-code, and low-code platforms are very flexible. One should not be an expert in architecture or underlying code while using these platforms. The program logic and user experience can thus be your main areas of attention. The platform's visual editor makes changes easy and instantly reflects them in the application. No-code and low-code platforms have this flexibility as a significant benefit. You can rapidly refine your ideas and make adjustments as you go.

Lower Costs:

Your team can save hours each month by not having to spend time writing code and instead concentrating on the creativity of the application. Because you don't have to pay someone else to create the code for you, no-code or low-code software lowers the cost of software upkeep. Additionally, it aids in keeping your systems updated with the most recent modifications to regulation standards. By using a low-code or no-code platform, start lowering the overall cost of keeping your software while remaining in compliance with industry standards.

Enhanced Innovation:

Successful businesses, give their staff members reliable tools and technologies so they can create their own solutions. People who conduct courses and educate the public must do so effectively. The growing demand for no-code platforms makes it simpler for organizations to accomplish their objectives. The goal of a low-code/no-code approach is to assist developers with simple apps. Additionally, it frees them up from upgrading current programs and fixing bugs. In this manner, programmers can devote more time to tasks that call for the innovation of applications. The goal of no-code development is to improve the alignment of business and IT processes. It allows both parties to maximize their individual talents and skill sets.

Easy collaboration:

 Platforms with no or low code are excellent for teamwork. Several developers can simultaneously work on the same program. These platforms are gaining popularity as quick and effective methods for developing applications. These platforms leave developers free from worrying about the underlying architecture and code, allowing them to concentrate on the business logic of their apps. Developer cooperation is greatly improved with this platform.
Ultimately:
Platforms with low or no code help companies create software and applications more quickly. Traditional front-back-end coding and the cost of experienced software engineers minimize and save businesses more time and money. Low-code, no-code development allows businesses, to speed up the app creation process and create seamless apps. This way, companies can accelerate launching their digital transformation initiatives.