In the data-rich landscape of today's business world, organizations grapple with a deluge of documents. These texts hold the keys to crucial insights, data, and knowledge that drive informed decision-making. Nevertheless, the manual analysis and summarization of extensive document repositories can be both labor-intensive and time-consuming. It's in this scenario that Generative Artificial Intelligence (Generative AI) emerges as a transformative solution, particularly in the realm of document insights and intelligence.
The Document Data Conundrum
Every organization, irrespective of its size and sector, maintains an assortment of documents, including reports, research papers, customer communications, legal records, and more. Extracting meaningful insights from these documents is a daunting task. Traditional manual methods prove to be inefficient, leading to delays and challenges in accessing the essential information locked within the textual data.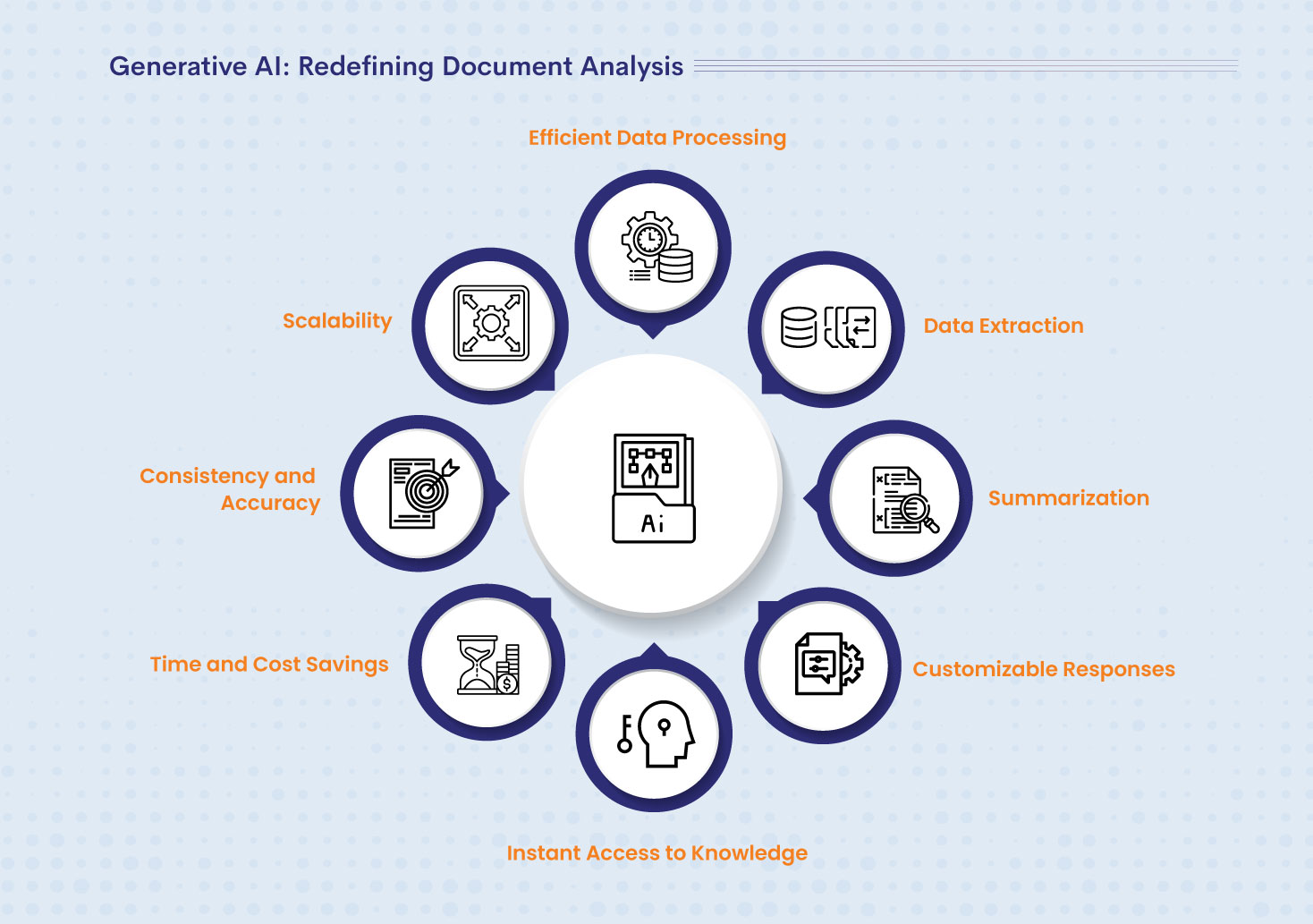 Generative AI, a branch of Artificial Intelligence (AI), empowers machines to understand and generate human-like text. By leveraging advanced techniques in Natural Language Processing (NLP) and employing deep learning models, it can thoroughly analyze, interpret, and condense extensive text data. Let's explore how Generative AI is reshaping the field of document insights and intelligence:
1. Efficient Data Processing: Generative AI can swiftly process large datasets, making it an invaluable asset for organizations dealing with extensive documentation.
2. Data Extraction: It excels at extracting key information, facts, figures, and insights from documents, facilitating data mining and knowledge discovery.
3. Summarization: Generative AI generates concise summaries of lengthy documents, making it easier to comprehend complex data quickly.
4. Customizable Responses: When integrated with Chatbots, it can provide instantaneous, customized responses by drawing from a database of summarized documents.
5. Instant Access to Knowledge: Organizations can deploy Chatbots on internal or customer-facing platforms, delivering instant responses to queries without manual searches.
6. Time and Cost Savings: Generative AI accelerates the information retrieval process, saving time and operational costs associated with manual analysis.
7. Consistency and Accuracy: Chatbots ensure consistent responses, reducing the risk of human errors in interpreting and delivering information.
8. Scalability: Generative AI solutions can scale to handle increasing volumes of documents, aligning with the growth of your business.
Getting started with Document Insights and Intelligence
Commencing your journey with Generative AI for document insights and intelligence is a strategic move towards efficiency and competitive edge. Here's a step-by-step guide to get started:
Identify Use Cases: Determine how Generative AI can best serve your business in terms of document insights and intelligence.
Data Collection: Gather the documents and data you want to analyze, ensuring data privacy and security measures are in place.
Choose the Right Solution: Evaluate Generative AI solutions that align with your goals. Collaborate with a reliable AI service provider like MSRcosmos for the right technology integration.
Integration: Implement Generative AI into your document management system and customize it according to your specific requirements.
Training and Testing: Train the system to recognize and analyze your unique data. Thoroughly test the system's performance and make necessary adjustments.
Deployment: Roll out the system within your organization for internal use or on customer-facing Chatbot platforms.
Continuous Improvement: Regularly assess the system's performance, collect feedback, and make improvements for enhanced accuracy and efficiency.
How MSRcosmos Can Help?
MSRcosmos, a trusted leader in Data & AI services, is your go-to partner for specialized Generative AI services, specifically designed for document intellig. Our dedicated team of experts will seamlessly guide you through the implementation process, offering a range of benefits: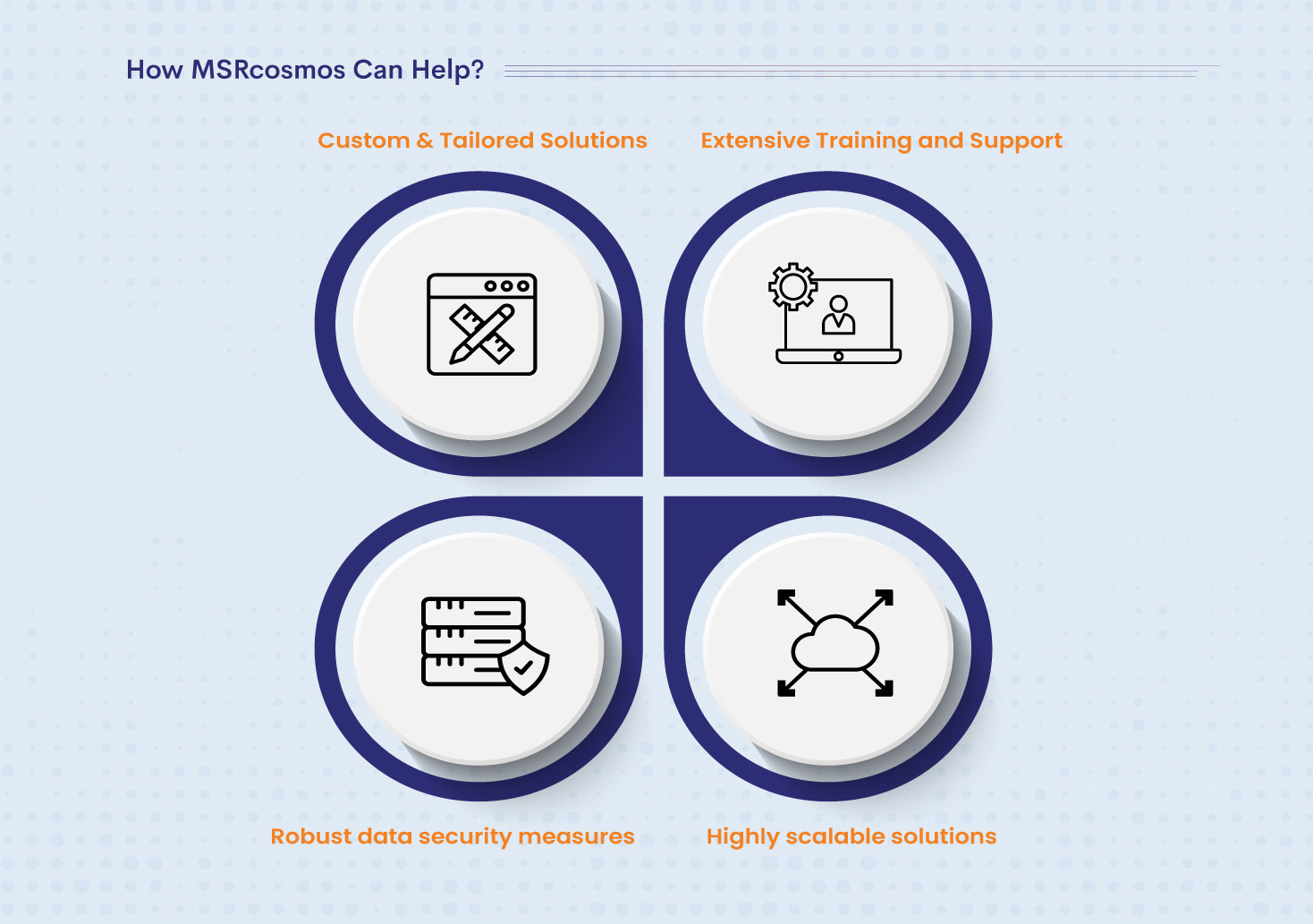 Custom & Tailored Solutions to meet your unique business needs.
Extensive Training and Support to maximize the benefits of Generative AI.
Robust data security measures to safeguard sensitive information.
Highly scalable solutions that would grow with your business, adapting to changing needs with ease.
Harness the power of Generative AI with MSRcosmos and embark on a journey of streamlined document insights and intelligence, enhanced knowledge access, and more efficient decision-making. Generative AI represents the future of document analysis, revolutionizing how organizations extract insights from documents. In a data-driven world, the partnership between Generative AI and intelligent documents offers a brighter and more competitive future. It's about unlocking valuable insights hidden within textual data, and it's just a click away.