Client Overview :
The client is a leading pharmaceutical company headquartered in the US. With over 50 years in the medical business, the client is a leading supplier in the domestic pharmaceutical market. They embarked on an ambitious digital transformation journey leveraging the power of the cloud.
Business Challenge :
The client wanted to migrate its SAP infrastructure to the cloud environment using a cost-effective approach. At the same time, they wanted better management of the SAP platform and intensive operations along with the dynamic allocation of computing and data storage resources. The task was monumental and the client required a solution partner who could them with the following challenges:
Upgrade local SAP infrastructure in terms of performance and capacity.
Support traditional server/storage/network hardware with backup/HA solutions.
Ensure seamless migration planning.
Business continuity with high availability and data recovery processes.
Dev/Test/QA environment support.
Have an on-demand functional SAP Partner with a local presence.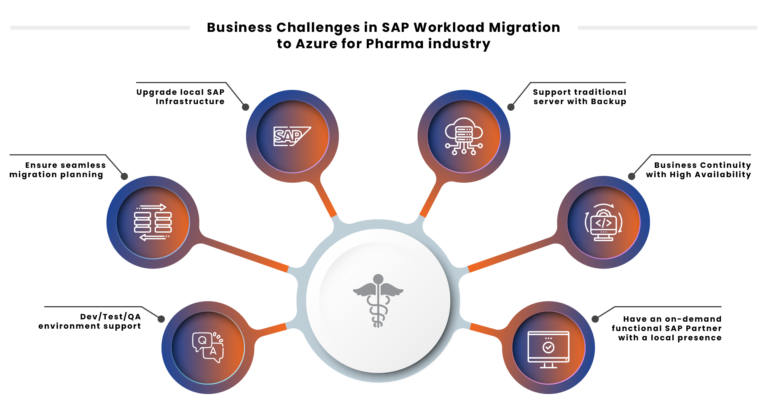 MSRcosmos, a Microsoft Solutions Partner with SAP on Azure Advanced specialization, had previously worked with the client on another cloud migration project. The client identified Microsoft Azure as the ideal cloud platform. As 90% of Fortune 500 companies rely on Azure, this was unanimously the first choice for cloud migration. Also, SAP migration to Azure allows spinning up VM's in minutes.
MSRcosmos offered to boost the client's SAP systems through migration to Azure with enhanced agility, lower TCO and storage expenses, higher availability, and innovation.
Solution :
In the initiation phase of the project (PoC), MSRcosmos did a complete assessment of the existing SAP environments, the team developed a mock architecture of SAP in Microsoft Azure, prepared SAP QAS and PROD environments using different Oracle and SAP HANA DB management systems. Testing was conducted over two different scenarios with SLES and RedHat Linux platform in Azure Linux Virtual Machines and tested Azure workloads. Post client's approval of PoC results the team started with the full-scale implementation:
Configured SAP ERP (based on SLES OS and Azure Linux Virtual Machines) architecture within Azure infrastructure.
Verified conditions for migration from Oracle DB to SAP HANA.
Integrated backup and Disaster Recovery solutions.
Monitored solution for the Linux and SAP parts.
With the help of Microsoft, MSRcosmos led a full-scale migration of the SAP platform to Azure replacing Oracle DB with SAP HANA.
Business Value :
MSRcosmos with the help of Microsoft successfully conducted the cloud migration project for the pharma giant. 100% of SAP infrastructure transition was finalized within 2 months from the initiation of the project, with immediate proven results:
Up to 30% performance boost.
60% fewer storage costs.
50% TCO savings with MS Azure reserved instances and Azure Hybrid Benefit.
Hardware cost savings on hyper-scale cloud infrastructure.
300 end-users (executives & decision makers) benefitted.
Faster provisioning – minutes instead of days and improved time-to-market for new requirements.
Higher levels of SAP automation allowed the client to boost productivity and focus on strategic tasks.
SAP systems to scale up/out/ down depending on workload.
Enhanced security and enterprise-wide GDPR compliance.